Office
Why Should You Buy a Camouflage Gaming Chair?
by James Li on Jul 08, 2021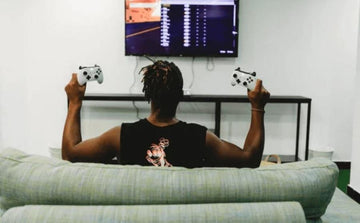 Brief Introduction
Let's be honest. A comfortable place to sit when you play video games is not only a luxury but a necessity. Poor support during long sessions of gaming can lead to serious problems with your posture and no one likes to spend their days nursing an achy back. Luckily, there's no shortage of options when it comes to snazzy seats for your gaming setup and we've put the best gaming chairs you can get today, with ergonomic designs, top-notch support, adjustable features, and the most important trait of them all — a comfortable spot for your bum.
Features
ERGONOMIC DESIGN: With Ergonomic & Aesthetics designed to give highly contoured support when and where you need it most. Adjustable headrest and lumbar pillows, as well as padded armrests, provide all-around comfort. Strong metal frame designed to help promote a comfortable seated position, keeping you comfy after long hours of game or work.
MULTI-FUNCTION: Armrest and seat-height adjustable; 90~150°reclining and rocking; 5-point base built with heavy-duty; Smooth-rolling casters; The Metal Body Frame is characterized by a thick wall tube, and a high-strength integrated steel frame. Precision sanding leads to uniform surface treatment and durability.
HIGH-QUALITY MATERIAL: Smooth PU leather, added seat cushion, and lumbar & headrest pillows offer added support and comfort. Heavy-duty base and nylon smooth-rolling casters for great stability and mobility. The seat cushion, backrest, rear and side blocks are composed of a single piece of high-density foam that is thick, full and shaped to provide comfort and a healthy posture.
WIDE APPLICATIONS: Our gaming chair is an ideal seat of choice for working, studying and gaming. It will make your space more modern and elegant, and make you more comfortable. What is more, the seat wheels increased in size from their predecessor, flexible slide without noise and scratch, protect hardwood floors. The aluminum alloy five-star base, whose load-bearing performance is enhanced by 80% over its predecessor, will outlast even the most exhausting online battles.
PERFECT FOR GAMING: Special camouflage edition. Perfect for game players. Upgrade your game room now with this amazing chair! This gaming chair is suitable for you to play computer games, watch TV, do the work and have a rest. It will make your space more modern and elegant. It will cost you about 10-15mins to assemble the executive swivel chair. It is the best gamer gift for your son and husband.
Conclusion
If you love e-sports might as well experience e-sports chair, feel the feeling of coming to the game! Gaming Chair Office Chair High Back Computer Chair PU Leather Desk Chair PC Racing Executive Ergonomic Adjustable Swivel Task Chair with Headrest and Lumbar Support. This Gaming Chair extends the full length of the back with support for the shoulders, head, and neck. Our chairs are crafted to perfection and designed to the natural body shape, you will find complete comfort with its Furniture Quality PU leather.
Why choose us?
1. Comparison of PU Leather
We: Use thicker PU leather which is more soft and resistant to hydrolysis and oxidation.
Others:Ordinary PU without composite, easy to damage, and not resistant to hydrolysis and oxidation.
2. Comparison of Frame
We: Using welding technology, weld crack resistance with high performance, all-steel, strong and durable, do electrostatic spray rustproof treatment ( better durability), steel tube thickness is greater than the industry standard.
Others: Using the general frame tube with the thin thickness, and use general welding technology(the weld anti-crack performance is poor)the overall quality is deficient. Easy to rust.
3. Comparison of Sponge
We: The sponge with high density bounces well, softer, and effectively relieve fatigue,Musso gaming chair met international safety standards,pass 100,000 fatigue impact test and chair back fatigue tilting test 120,000 times.
Others: Waste sponge density is not high rebound. The cushion will collapse and no longer comfortable after long-term use. Moreover, waste sponge uses a large amount of glue, formaldehyde and other harmful substances, which are harmful to human health.
4. Our New Model Armrest
We will continue to upgrade the accessories through feedback from buyers. The latest batch of chairs is all new model armrests.

5. Comparison of the Seat Cushion
We: Using U - shaped gun nail with high strength steel frame, is more comfortable by using the quality sponge and the resilient rubber band.
Others: The seat cushion is made of common gun nail + construction waste board + black non-woven fabric which is airtight.

6. Comparison of Stitches
We: The stitches of our chair are clear and conform to the standard. The whole chair is wrinkle-free.
Others: The stitches are very thin, and the wrinkles on the chair are obvious.

7.Unique Camouflage Design
Using the racing seat model, adding unique camouflage-style stitching, whether it is used for intense games or daily life, showing your unique charm.
How to purchase this ELECWISH C
amouflage G

aming Chair?

Here are the links to this ELECWISH camouflage gaming chair on the official website. 

If you have any questions, please don't hesitate to contact us. We are always willing to help you!