Office
Why Should You Buy an ELECWISH Gaming Chair? Choose Your Wish!
by James Li on Aug 05, 2021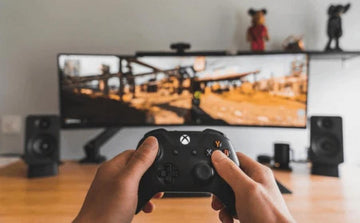 About ELECWISH
ELECWISH means WISH and HOPE in English, is a professional office furniture supplier, and centers on black and white tone design. Inherited from Minimalism Style, ELECWISH specializes in environment-friendly, stylish, minimalism and comfortable Ergonomic Office Chair.
As an early pioneer in Ergonomic Office Chair, ELECWISH has become well know in the world with its advanced product research & development, excellent product quality and perfect service. With its top production lines from German and Italy, ELECWISH only employs the best materials in Ergonomic Office Chairs, has won its high reputation among the global market since its birth.
What is ELECWISH Gaming Chair?
This ELECWISH Gaming Chair Racing Style which is designed to offer you a combination of luxurious comfort and high-performance style. Equipped with a removable headrest pillow and lumbar cushion and a built-in reclining mechanism to 90 to 170 degrees backward, this chair will offer you extra comfort on those long working days.
Adjustable armrest and seat height will meet most of your needs. And the 360 degrees swivel design and 5 wheels make it easy for you to glide freely over hardwood or carpeted surfaces. It is perfect to decorate your home office, corporate board room games room with this chair.
Features Ⅰ
PADDED HEADREST: the gaming chair also has a padded headrest pillow provided, which straps to the top of your chair, perfectly positioned for your head to rest on when you recline the chair.
ADJUSTABLE ARMREST: the ELECWISH Gaming Chair has adjustable armrests. Where your arms need to rest is dependent on how long your arms are, and how tall your desk is. Adjustable position armrests are frustrating, but thankfully, the ELECWISH chair armrests can be adjusted to suit your specific needs. They can also be adjusted wider, allowing for more waist sizes to fit comfortably.
MASSAGE LUMBAR PILLOW: The gaming chair has adjustable lumbar support and generously padded, easy to eliminate any back pain that you may experience due to sedentary sitting and help relax your mind and relieve pressure
The ELECWISH Gaming Chair boasts a large size wide and comfortable seat. Some game chairs can only cover half of you. While this is fine, the large size seat on the ELECWISH Gaming Chair gives support for your entire body this is especially helpful when sitting.
Features Ⅱ
When you spend most of your days working at a desk, the chair you sit in can't just be comfortable. En- couraging good posture and adapting to your specific needs are paramount. The ELECWISH Gaming Chair is made with artificial leather and offers lumbar support. It has a rocking ability and can rotate 360 degrees.
The material is very easy to clean, which is always an advantage. Its 5 feet are placed on sturdy wheels which provide both movement and stability. Then the backrest can also adjust between 90 to 160 degrees for that ultimate gaming experience, the controls are all at your fingertips on the right side of the chair.
Dimensions
- Overall Size: 26.3"(L) x 20.9"(W) x 45.2"-49.2"(H)Adjustable Height
- Seat Size:21.6''(L) x 20.9''(W)
- Back Size: 15.9" W x 30" H
- Height from ground to seat: 16"-19.7''
- Bearing Capacity: 330 lbs
The Verdict
If you want luxury but can't afford it, the ELECWISH Racing Gaming Chair is the next best thing. The biggest advantage of this racing chair is the fact that it offers luxury at a very reasonable price. Only need 140 dollars! You also get a padded headrest and lumbar support with the chair. Also, the backrest is adjustable between 90 to 160 degrees. It doesn't entirely recline to 180 degrees, but its close enough. Even the seat height and armrest are adjustable.
You also have different designs since the chair is available in dual colors. In a word, the chair is a great gaming chair that provides you with a high degree of comfort and support. Also, it only needs 15 minutes to assemble, quite easy. After all, for such a nice price, you really won't be able to find such a deal anywhere else in the market.
How to purchase this ELECWISH gaming chair?
Here is also the link to this ELECWISH gaming chair on the official website. 
If you have any questions, please don't hesitate to contact us. We are always willing to help you!