Office
The Best Ergonomic Office Chairs for Back Pain
by Clerk Wine on Jul 01, 2021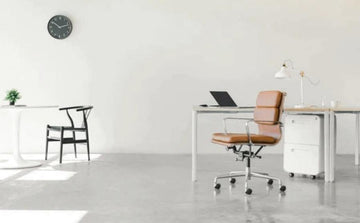 Chronic back pain is a common complaint among people who spend hours a day in a chair, either bent over paperwork or work in front of a monitor. Therefore, it's important for everyone to choose a comfortable chair. Suitable for long time use, ELECWISH ergonomic chair is actually designed to meet your daily needs.
Cushion bottom with integral plastic shell to increase stability. The elastic backrest and soft linen sponge cushion keep you comfortable all day long, and the tension knob allows you to adjust the inclination to relax after a long day in the office or home. Whether you are working, studying, gaming, meeting or leisure, our chairs can bring you lasting comfort.
About ELECWISH
ELECWISH is a professional office furniture supplier and centers on modern office chair design. Inherited from Minimalism Style, ELECWISH specializes in environment-friendly, stylish, minimalism, and comfortable Ergonomic Office Chair. Excellent product quality and perfect after-sales service are the rules company obeys. ELECWISH only employs the most environment-friendly materials in Ergonomic Office Chairs, has won a high reputation among the global market since its birth.
Highlights
Breathable back & Soft fabric seat
We say it all the time, "I need a chair, just for me." So our design team set to create a simple office chair that goes beyond with a breathable back and a soft fabric seat, this chair was created just for you. And just for your space.                
Now you can sit how you want but better. The mesh office chair with upgraded sponge padded fabric seat, all for the superlative support and support, offers a better comfortable feeling. The breathable back can keep your back still be cool, giving you a relaxing feeling, especially in summer. All in all, this fabric upholstered computer chair will provide a warm feeling to you while working or playing.
Plastic modern seat back - elegant & dust-proof
Almost all people want a product that could be used for long-term, and also glad to see that a commodity will still be new-like. Maybe this chair can let you stop imagining. 
The bottom of the cushion is covered with an integral plastic shell, not only let the chair be looked elegant but also have the function of dust-proof, the creative structure design makes your chair more ergonomic than others, and will bring great sight feeling to you and your family.
Details
This home office task chair has a 120° tilt tension, adjustable lumbar support, and a recline feature that allows you to tilt the backrest back or sit straight. Now you can quickly find a position that makes your back feel the most comfortable!
Pu wheels prevent marks while making this rolling chair compatible with carpeted floors. Swivel 360°and move freely and quietly.
The arms of the chair are cushioned and it can be turned up 90 degrees, you can flip it up and push it under the table for easy storage.
5-Point Basic with dual castors gives greater stability and strength over common 4-Point. Weight capacity up to 3301b.
The back and armrest of the office chair are ergonomically designed to ensure that your body fits perfectly into the chair. Suitable for long time use.
Pneumatic height adjustable from 17.7 inches to 21.2 inches matches different age people's different stature.
Let cool air surrounding your body!
All in all, the real feeling of this chair is that cool air circulates through the mesh keeping your back sweat-free and allowing you to sit in the chair comfortably for longer periods compared to traditional chairs. Now get your office chair – and boost your work comfort! Your purchase will be backed by a 100% money-back guarantee. Try this chair for 90 days - if you don't love it, you can return it and will get full of order money without any problem.
Here are the links to this ELECWISH Weight Bench
 on the official website. 
Website☞ https://www.elecwish.com/
If you have any questions, please don't hesitate to contact us. We are always willing to help you!