Office
Is the ELECWISH Ergonomic Office Chair Worth It?
by James Li on Aug 13, 2021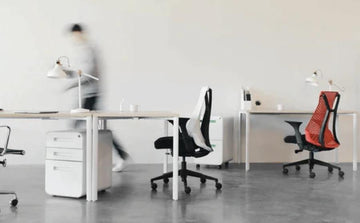 Why do you need an office chair?
In recent years, with the change in working conditions, more and more people begin to attach importance to the comfort of chairs. Long hours of work make an ergonomic and comfortable seat a rigid need. Different from the common chairs, office chairs are equipped with a high back, lumbar support, adjustable arms and flexible wheels, which can provide a better sitting experience.
Why should you choose ELECWISH?

The ELECWISH ergonomic office chair focuses on a comfortable sitting experience, drawing on foreign advanced technology. The product design is sophisticated, practical, and durable, allowing you to have a good experience during work and leisure time at home and office. We aim to satisfy every customer, we adhere to the people-oriented approach, and we are willing to solve problems for our customers. 
What is the advantage of ELECWISH Office Chairs?

Adjustable headrest
Adjustable headrest for support of head to effectively protect your neck. This mesh office chair with armrest and seat height adjustable means you can find the perfect position to ensure you a pain-free day for a long hour sitting.
Improve Your Posture
Featuring reliable curved contours and integrated lumbar support, the ergonomic chair is designed to provide optimal lumbar support and keep your spine properly aligned, keeping you in a healthy sitting posture while working.

Comfortable and Reliable
Made of premium and skin-friendly fabric mesh backrest, and with a 9cm high-density sponge-filled cushion, the office chairs have good ventilation and will not deform after long-term use.

Adjustable headrest
Our armrests can be adjusted as the chair rises and falls. Linked armrests and synchronized tilt mechanisms provide a smooth and relaxing recliner. After the new upgrade, the filling is softer and can better support the elbow.

Details of ELECWISH Office Chair

High-Quality Gas Lift

Our gas lift device has passed BIFMA and SGS certification, with reliable stability and safety. The reinforced metal structure can provide the best support in long-term use.

Anti-scratch Wheel

Our chair is in patenting for this unique designed quiet and non-slip smooth-rolling caster wheels, which can anti-scratch and protect the floor.

Stable & Durable & Safety

Our high-back office chair is constructed of hard-wearing nylon mesh, durable starbase, solid rolling casters and SGS-certified pneumatic cylinder, which is capable of holding up to 136kg/300lb.

Recline Function

Office chair with footrest meets your daily needs by multi-angle adjustment from 90°-150°to increase comfort. 4 Modes to recommend: 90° Working Mode, 100° Gaming Mode,120° Reading Mode,150° Relaxing Mode.

How to purchase an ELECWISH Office Chair?
Here is the link to the ELECWISH Office Chair on Website. 
If you have any questions, please don't hesitate to contact us. We are always willing to help you!