Elecwish Life Style
Cooler Cart Is a Must-have Choice in the Party
by Emily Watson on Jun 01, 2021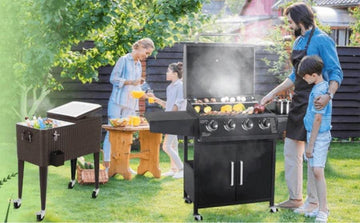 Outdoor drink coolers are growing popular lately. There are many factors to consider before hosting a party. One of the most important factors is the supply of drinks. On the summer day, everyone prefers to choose a cool drink. Unlike the days when your friends would the congest near your refrigerator, or request a refill of your small ice chest, today, many people turn to this portable patio cooler cart. Choose this patio cooler cart and make your party the best in the neighborhood.
There's much more to a patio cooler cart than just the style. Build quality, ice retention, and storage space are other important factors to consider when buying a cooler cart.
According to your needs to choose a suitable patio cooler cart. In this in-depth buying guide, we recommend the best patio cooler cart you can buy online. We considered things like durability, materials, and, of course, style in choosing our top pick. If you are sure you need it, just get it by code.
About Material
This patio cooler cart is crafted from the highest quality of PP material that brings about years of use and safe. It is covered using all-weather woven rattan wicker that is resistant to harsh weather conditions. Its insulation covers the entire walls and lid to keep drinks cold for days. It could store 100 cans or 50+bottles. Besides, the bottom Shelf holds extra drinks or used bottles.
Flexible Wheels and Handles
2 rolling wheels help you move the cooler cart to anywhere you want. Another 2 wheels with locked, keep the patio cooler cart in place. Two side handles help you carry or pull the patio cooler cart no matter how heavy it is.
Helpful Drain Plug
Are you wondering how to clean up the ice after melting? Please don't worry, this patio cooler cart is equipped with a drain plug that will excess water and keeps the patio cooler cart clean.
Humanization Design
Finally, let me introduce a humanization design: The bottle opener and bottle cap catch bin. If you are a beer enthusiast, you know the importance of a bottle opener. You don't need to deliberately prepare a bottle opener. It is convenient to use.
So, planning on throwing the party of the year? This stylish patio cooler cart comes with excellent cooling features and an antique finish for an amazing look. You can wheel the patio cooler cart anywhere you want, carry more drinks and ice than you would with a conventional cooler, and there's no more bending to pick a drink. They are the best choice for any outdoor party keeping your drinks cool for days.
Two Types, Click The Pictures You Like, Turn To Shop.
1. Patio Rolling Cooler Ice Chest Cart With Bottom Shelf, Portable Beach Patio Party Bar Cold Drink Beverage Chest, 80 Quart
2. 
SOLIDEE 80 Quart Outdoor Patio Cooler Cart, Rolling Ice Chest With Bottle Opener, Portable Party Bar Cold Drink Beverage Rolling Cooler On Wheels, Brown
If you want to read more products, just click ELECWISH website: https://www.elecwish.com/
Of course, we recommend Propane Gas Grill, you can click https://bit.ly/3sROPhb to read in detail!
If you have any questions, please don't hesitate to contact us. We are always willing to help you!