Elecwish Life Style
Best Drafting Drawing Desk in 2023--That's It
by Emily Watson on Dec 30, 2021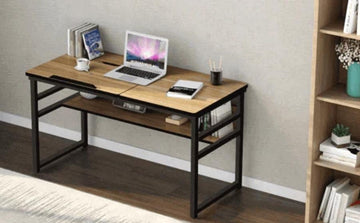 Do you know? All practitioners, whether they are amateur painters or professional painters, need a comfortable working space to achieve the best results of their work. Sometimes with the same design, working in a quiet and comfortable office area is at least half more efficient than working in a noisy living room. Only with a good working attitude and environment can work get twice the result with half the effort.
The research of Bob Vera, who specializes in the home repair and construction niche, has shown that large work areas with a good range of angle adjustments are key factors to look out for. According to this, we have made sure that our top drawing desk meet this need. Be nice to yourself in the new year.
Next is the introduction of the best drawing desk sold on Elecwish after integrating the advantages and disadvantages of many kinds of drawing desks in the market. This drawing chair will undoubtedly be the "dark horse" in 2023.
Drafting Drawing Desk, 47 Inch Home Office Computer Desk With Adjustable Tiltable Tabletop And Storage Shelves ✨
Well, the reason why it can be called the best will be showed next.
Multi-functional Computer Desk
If you think this drafting drawing desk is just a drawing table, then you are wrong. Its versatility can help you save half of your money and buy another table. BEST BANG FOR THE BUCK!!!
When you don't need to use it, you can put it down on the desktop and use it directly as a desk. It can be used as a laptop workstation, an office computer desk, and a study desk for young students. It can be suitable for any activity that requires a wide and flat surface. This desk can be as drawing desk, art desk, gaming desk, computer desk, study desk, dresser, workstation and so on.
 Drawing Desk with Tiltable Drawing Board Design
Elecwish drawing desk features a tiltable desktop, which can be adjusted from flat to 60°(total 12 multiple angles) to achieve desired angle, offering a comfortable position for drawing, reading while still leaving the other side flat for books.
Large Working Space of Drawing Desk 
Spacious Desktop: 47" * 24" (L*W) desktop provide spacious space to draw, work and others. Open storage shelf under desktop provides convenient storage space for files, books, office supplies, keeps essentials at hand and leaves plenty of desktop for spreading out.
Stable and Durable Drafting Desk
It's this sentence again: "be nice to yourself in the new year".
Choosing an ordinary and low-priced drawing desk can only be used for a few months, while choosing a high-quality and well-made drawing desk can be used for several years. You deserve a good one!
This study desk is made of high quality MDF and powder coat finish iron mental, maximum load capacity up to 220 lbs. Together with adjustable leg pads not only prevent scratching floors while moving the table, it also ensures a supremely stable work platform. 
The devil is in the details. We are always constantly perfecting our technique. Here are some details worthy of attention.
Anti-pinch Design
Warm anti-pinch design prevent fingers from pinching when you lift up and down the tillable board, easy for us to adjust the desktop to right angle.
Adjustable Leg Pads
Adjustable desk feet for different height need, uneven ground conditions (keep balance) and protect the floor from scratch.
Warm Sheet Stopper
The adjustable desktop part can meet different demands for learning and working, and the sheet holder helps prevent paper, books or computers from slipping down.
12 Setting for Multi Position
Making you more comfortable when studying, working, and you can adjust table 0 to 60 angles according to your needing.
100% Warranty & Easy Assembly
All the hardware for assembly and instructions are included in the package. It's easy to put together with instructions. If there are any difficulties, please feel free to contact us, we will to provide a warm following service within 24 hours.
Package Content:

1 x drawing desk

1 x Installation Tool

1 x Install instruction Paper
FEEDBACK
Although we have to wave goodbye to 2021, good products can always be found and favored by the public every year. Here, we have collected a part of the real evaluations of customers of this drawing chair in 2021, and hope it will be helpful to your purchase.
People who have used this drawing table have the best right to speak.
In any case, thanks for these sharing, we always keep in mind and express our gratitude through the blog. If you want to say: well, not bad, so-so, or your experience is very good and amazing, you can also email us to express your feelings, it is best to attach your picture and share your Elecwish for a while.
Of course, you can also share it on your social media account, we are active and can communicate with you on Facebook, Instagram and Twitter. Just @Elecwish and #ElecwishHome, we will come to click like on your post and pick some of your pictures in next blogs.
How To Purchase This Elecwish 
Drafting Drawing Desk?
This 47-inch home office drawing desk adopts a multifunctional tiltable drawing board design, which has a large working space, is stable and durable, and is easy to assemble. It will produce a brilliant performance that is unusual for other brands in 2023.✨
We also have many types of office desks, you could click our collections/office-desks to have a look.
We'll help you get the little things right, realize your ideal home, bring your vision to life – and deliver them fast on express dispatch!