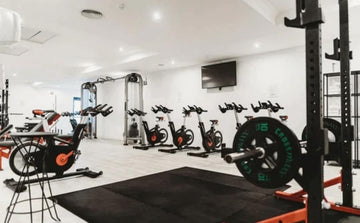 We believe fitness is a lifestyle, not a status symbol. Achieving your goals may require a little sacrifice, but the price of your bike shouldn't. That is why we developed this bike that seamlessly combines fitness and tech to offer the best in stationary biking at a fraction of the cost.
Features
Great quality: The sturdy steel design is made for heavy-duty use, either in a spinning class at the gym or for convenient daily exercise at home for individuals or families. It has a 300 lb. weight capacity and can withstand hours of strenuous cycling every week! The belt-driven system provides a smoother and quieter ride than chain transport. It won't disturb your apartment neighbors or sleeping kids.
Adjustable & Movable: Anytime you need it, you can adjust the height and position of the handlebars or seat. Simply turn a knob and find the hole that better suits your needs. Because of the high-grade front casters, it is incredibly easy to maneuver the bike to where you want it.
Professional design: We've constructed this quiet spin bike to have an incredibly easy assembly so that you can get to exercising fast. This stationary bike is equipped with a comfortable seat cushion, handlebar grips, and a water bottle holder, so you can stay hydrated while you exercise. It also comes with a high-quality LCD screen that displays Console with IPAD bracket effectively tracks your fitness progress with the easy to read multi-function digital monitor: scan, time, distance, speed, hand pulse, calories.
Customer service: Not only a high-quality exercise bike but also 100% satisfied customer service. Installation video can help you complete the assembly faster, with 1 YEAR of free parts replacement.
Benefits
Burn calories: Regardless of age, gender, and lifestyle, cycling is so energetic and adaptable that you burn calories all the time when you exercise.
Improve your health: Anaerobic exercise can improve your cardiovascular health, and even reduce mental anxiety. LABO indoor cycling bike is of great benefit to you.
Set your own pace: No matter whether you are a novice or a fitness enthusiast, feel free to adjust resistance and find a suitable intensity level. Enjoy exercising all the way.
Exercise and maintain muscles: The abdomen and legs are the main muscle exercise groups and will be fully trained and rebuilt. A charming body shape is coming.
If you've been looking to build some muscle, then this is just the home fitness accessory you need! Build and tone muscle in your hips, legs, and glutes while increasing your overall stamina. With this exercise bike, you can have the results of a professional level workout within the walls of your own home!
How to purchase this ELECWISH Exercise Bike?
Here are the links to this ELECWISH Exercise Bike on the official website. 
Website☞ https://www.elecwish.com/
If you have any questions, please don't hesitate to contact us. We are always willing to help you!