Elecwish Buying Guide
Why Should You Buy a Vanity Table Set With LED Mirror?
by Clerk Wine on Jul 30, 2021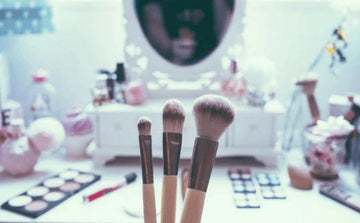 ELECWISH adjustable LED vanity table and stool combination is a stylish and practical modern furniture for your home. The thick and soft cushion makes you sit more comfortably. 
The combination of white and wood color becomes a unique scenery in your home. This dressing table can be placed in the bedroom, bathroom, or hallway. It has many advantages that can arouse your interest.
1. Free Make-up Organizer
Free make-up organizers offer extra space to store cosmetics, perfumes, lotions, brushes. Perfect size makes this vanity table become the best choice for your room, looks elegant and beautiful. The natural wood with an elegant white finish that creates a fresh look, easily match many decor designs and room colors. 
2. Delicate Design & Adequate Capacity
The design philosophy of this vanity set is to be simple but smart! Round cosmetic mirror and square desktop make it a refined style and easier to make up. Two big storage drawers, one of which has four compartments, which can accommodate your required vanity essentials and jewelry. Say goodbye to the trouble of messy items on the dressing table.
3. With Adjustable Touch Screen Mirror
The tabletop is equipped with a mirror that allows you to make up and wear jewelry. LED lamp around the mirror which can switch natural light, warm light, and yellow light. You can choose a different light according to different scenes and different make-up. Touch switch allows wet hands to open.
4. Accompany by Solid Stool
P2 grade environmental MDF, solid wooden table & bench legs. This table comes with an upholstered bench. Linen material cushion allows you to sit comfortably when makeup. They are very durable and ideal for long-term use.
The quality of life is determined by our choice, and I firmly believe that the people who lay out the furniture attentively are also decorating their lives with their hearts, just like arranging a dressing table, which would give you a smarter storage solution and better organization as well. It can perfectly match your other furniture and add stylish charm to your room.
Here are the links to this ELECWISH Vanity Table Set
 on the official website. 
Website ☞ https://www.elecwish.com/
If you have any questions, please don't hesitate to contact us. We are always willing to help you!