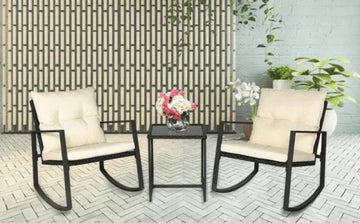 When you want to relax and enjoy some outdoor time, or when you want to have lunch, read a book, or take a nap in the sun, you can use this stylish 3-piece rocking bistro set, which can make you more comfortable enjoy life. It is also perfect for sharing cocktails, watching the sunset, or chatting with friends. You can relax and enjoy free and steady swings while talking with family or immersing in your favorite book as if traveling in the sky.
At the same time, the design of this chair is very elegant and simple, and it is a beautiful decoration that adds a noble atmosphere to your home. It includes a table and two rocking chairs. It is the best choice for you to decorate the courtyard, poolside, balcony, patio and home, and is the right size for especially limited outdoor or indoor.
Let's take a look at it in three details to give you a better understanding of it.
Soft Cushion
The thick soft cushions provide the comfort you need after a long day of hard work, allow you to forget fatigue, and fully enjoy your leisure time. The seat cushion is made of a removable polyester cover with a zipper, which can be easily removed for cleaning when you need to replace it after sitting for a long time. And the creamy white is beautiful, giving people a warm and comfortable feeling.
Hand-woven Rattan
The chair is made of high-quality and durable hand-made rattan, will not fade, and can withstand the test of time and high temperature. Carefully crafted so that you don't have to use the seat cushion, you will also feel comfortable after sitting down. Moreover, one of the advantages of rattan chairs is that they're lightweight but sturdy, and each chair can hold up to 250 pounds.
Glass Table Top
Having this table is your best choice for a cup of coffee in the morning or a little wine in the evening. You don't have to worry about spilling coffee because it's a glass counter and easy to clean. And the surrounding area is also made of rattan, which is waterproof. You can even put some small items on it, a few books, or even a potted plant or a vase for decoration. 
NOTE
Chair size: 21.5 inches (W) x27.5 inches (D) x30.12 inches (H)
Table size: 16.9 inches (W) x16.9 inches (D) x19inches (H)
The rattan furniture is full of elegance. ELECWISH 3-piece rocking bistro set is matched with soft beige cushions and pillows to make the style more modern. Rattan furniture also plays an important role in ecology, the unique attraction created by the traditional handicrafts it exhibits. In addition, rattan products are still the most environmentally friendly products, free from local and seasonal restrictions. It is characterized by high toughness, mothproof, moisture-proof, durable, and it is a green household product.
Coming soon, please look forward to it!