Elecwish Buying Guide
Remember to Check This Guide Before Buying Nightstands
by James Lee on Aug 19, 2021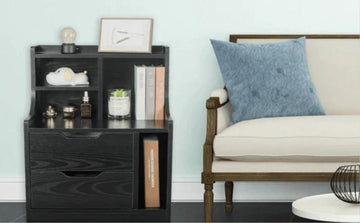 Nightstand, as a small role, cannot be ignored in our daily life. For example, do you often encounter some little items disorderly and randomly laid in various parts of your home? At this point, nightstands are indispensable for storing and displaying a kind of things. In addition, an appropriate and comfy end table could wholeheartedly assist your home look more clean and beautiful.
However, "having more options doesn't feel like a good thing". Nowadays, there are a wide range of nightstands selling on the market, which may cause you to feel at a loss.
With regard to this situation, start with style design of nightstands, here is a guide for you to ponder. Please remember, if the one you pick is out of stock, how about considering other series of nightstands or email us to inform us of your needs, we are happy to serve you.
Continue to check from below, click the picture if you like and choose your favourite design to be your own.
1.
Chic and Versatility Design
29.5" Nightstand Bedside Bedroom End Table
Wood Nightstand With Multifunction Storage Design
These two kinds of multifunctional storage nightstands, as you can see in the pictures, not sticking to the traditional style but demonstrating peculiar and attractive shelf-shape design, are the ideal choice for those who like unique types of furniture.
It is worth noting that these two kinds of end table combination of style and function interprets their particularity. On the one hand, their two drawers provide particular spaces for books, TV remotes, magazines, etc.; while the additional storage shelf is a definite display platform for photo frames, coffee, snacks and so on. After that, daily necessities have a "home" from now on and are ensured convenient storage and easy access.
Besides, on the other hand, Their structure of high-quality fiberboard show their durability and sturdiness. The sofa in the living room, the bed in the bedroom or the table in the reception room are all their ideal partners.
2.
Lifting Top
 Design
Wood Sofa End Side Bedside Table Nightstand Storage Shelf Lift W/Drawer Top
If you desire to lie in bed, sit on the sofa to eat food or drink coffee, then this nightstand will fulfil your wish. Because it has a mobile table with a drawer running on a metal rail with a stop, you don't need to worry about it accidentally falling off. What's more, you can display and place books, photos, cups and some other crafts on it in an orderly manner. This simple style of black and white tones is the icing on the cake, making the whole look refreshing and clean.
Of course, in addition to the two large drawers at a glance, its hidden storage cabinets are unexpected. This is the best place to store your personal belongings or other small items. You don't have to worry about being discovered in this secret place.
Its personality also lies in the 4 lockable casters! You can either lock the casters to avoid the table, or you can choose to move the side table to any position you want. You don't have to worry about damaging the wooden floor.
3.
Open Base Design
Side Table Set of 2 Coffee End Desk Combo Nightstand Drawer Steel
However, if you just worry about the smallness of the corners of the space, why not consider this modern nesting table? As you can see from the picture, this end table not only gathers some advantages of the above models, such as multi-functional portability and refreshing appearance, but also has an open base style that can be cleverly combined into one which perfectly saves your limited home space! A bedside table separates into a coffee table and a side table, creating extra storage space for you. Divided into two, it is also a suitable configuration for parties or entertainment.
In addition, the durability and decoration of the furniture should be paid full attention, so this nightstand is recommended because it has an electroplated gold spray powder coating and metal leg structure to prevent rust and corrosion, as well as a protective anti-slip foot caps to prevent the floor from scratching. Therefore, if you prefer this bedside table, then the dining room, home office and balcony or bedroom can play its function and show its advantages.
Enjoy Your Favourite Nightstand From Now
It seems that many people always ignore the importance of bedside tables and buy the most common types at will, leading to idleness in the future and a lot of inconvenience. In fact, as long as you spend a few more minutes to consider your own needs, the above four end tables, versatility or configuration of lifting table, charging function or open base, have their own advantages and unique characteristics which can become one of your ideal furniture, and you can enjoy their convenience and beauty in the future.
How to Purchase Our Nightstands?
Just click the above picture, and then you could enter our website, pick and buy one you like.
Here is a point that needs to be stated again. If the one you pick is out of stock, how about considering other series of nightstands or email us to inform us of your needs, we are happy to serve you and replenish as soon as possible.
Besides, if you want to read more about some other products, Here is the link to the ELECWISH.
If you have any questions, please don't hesitate to contact us, post your opinions and comments. We are always willing to help you and continuously improving ourselves!