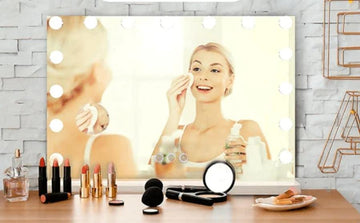 "The face is the mirror of the soul." said by former Soviet writer Gorky. It can be seen that at the beginning of socializing with others, a clean face and decent dress are to count for much. I think no one wants to be friends with a person who doesn't want to dress up himself well, maybe his soul doesn't tally with any others.
Of course, the face as a mirror can reflect the soul, which is enough to illustrate the importance of the mirror. A bedroom cannot lack a good Lighted Makeup Vanity, because a good light can create a good makeup and good mood!
Greet every day with beauty and confident mood in your mind, and refresh your bedroom with suitable furniture in style can totally make your lifestyle better! Now I guess you are starting to wonder what kind of Lighted Makeup Vanity Mirror can be thought is good and the best? Here are 5 Tips to help you to Choose Best Lighted Makeup Mirror!
1. 3 COLOUR LIGHTING MODES
You don't want the dim light to affect your delicate makeup and sweet mood of the day, right? This Hollywood Lighted Mirror has 15pc LED bulbs, which are surrounded in the mirror with a smart touch button. What's more, these LED bulbs can be easily switched to white daylight, neutral light, and yellow warm light.
The light is dim because of the gloomy weather? Worried about the inconsistency of lighting effects and outdoor lighting, leading to unacceptable makeup? This mirror allows you to switch between 3 kinds of lights at will, you don't have to consider too many uncontrollable factors, because the designer fully thinks about these problems and solves your anxiety by designing freely to switch the light! Choosing different light according to different scenes and different makeup.
2. BLUETOOTH SPEAKER
This design will definitely be the essential tips of an ideal mirror! Have you ever had a busy makeup moment? When you are applying eyeliner slowly and carefully, suddenly the phone rings. You may accidentally apply eyeliner to the outside of your eyes, just to answer an unexpected phone call. Of course, you can't wear eyeliner while calling, can you? So this makeup mirror helps you realize your imagination of making free calls and listening to music at the same time during makeup time for this best mirror is designed with Bluetooth speakers! It can certainly make your makeup more convenient and bring more fun.
3. USB CHARGING PORT
Well, if you find that your mobile phone consumes electricity for too long, or it is too late to charge, and then you cannot use your mobile phone after the evening party, your happy mood will be affected all day long. Therefore, the best makeup experience will not make you have such bad memories. The best makeup vanity mirror is equipped with a USB charging port(12V,1A), which is convenient to charge mobile phones and devices. There is no worry about running out of battery while applying makeup!
4. PERFECT SIZE
Of course, the best mirror must have a good sense of size! This mirror is undoubtedly the ideal combination of elegant design and perfect size!
No matter whether your bedroom, bathroom, closet or hallway is a spacious large space or a small space, this best mirror can be brought into full play in any space. The mirror size is 23-inch x 17.8 inches, providing you a perfect upper body view, perfect for professional salons and makeup trailers as well as the home.
5. ELEGANT DESIGN
Using this Hollywood Lighted Mirror, you can even imagine yourself as a Hollywood star with exquisite makeup and ready to go to the red carpet feast! Its elegant design is showed by durable and sturdy Aluminium frame which increases the design sense of the mirror. The enlarged base makes it more stable on the tabletop. 
IDEAL GIFT & WORTH TO ENJOY
So whether you are a college girl in school or a mature woman already working, your bedroom is worth equipped with the best makeup vanity mirror. What's more, if you are a gentleman, you can also prepare one best lighted makeup vanity mirror as an ideal gift for your wife and daughter to bring convenience to makeup.
How to Purchase Makeup Vanity Mirror Hollywood Lighted Mirror ?
You can click on the underlined headline in the blog or click on the picture.
If you want to read more products, just click ELECWISH website:
If you have any questions, please don't hesitate to contact us. We are always willing to help you!