Bedroom
Reveal 7 Secrets of The Ideal Makeup Vanity Table Set in 2023
by Emily Watson on Sep 18, 2021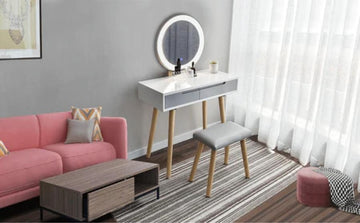 "A girl should be two things: classy and fabulous". In addition to Coco Chanel perfume volatilizes your unique charm, keeping classy and fabulous also need Makeup Vanity Table Set which can help you maintain a delicate life. Of course, this is not an empty nest, because if you investigate and research most of the makeup vanity mirrors on the market, you will find that Makeup Vanity Table Set has several unique secrets which must be taken into account when selecting vanity mirrors. Hopefully These 7 secrets will be helpful for you to choose an ideal vanity mirror and understand the advantages of Elecwish.
1. Adjustable Brightness Mirror
In fact, most people dress and make up indoors in front of ordinary mirror which light is definitely not as full of sunlight as outdoors, and the colour tone is also different. Although they put on delicate makeup in this light environment, they can get under the sun, but "the original form is revealed". Taking this defect into account, the product designers of Elecwish designed makeup vanity set that can simulate natural light and increase more lights at the same time.
In a manner of speaking, almost all Elecwish makeup vanity sets come with an adjustable brightness mirror that actually switches between natural light, warm light, and yellow light at most when you tap the screen! This let your makeup more delicate and elegant every time. Besides, the touch switch can make normal operation with wet hands which making us safer to use!
After the makeup vanity table equipped with Elecwish three-colour adjustable dressing mirror, you can ask with complete confidence: "Mirror, mirror, tell me, who is the most beautiful woman in the world?" Absolutely is you!
2. Unique & Exquisite

 

Design
Although crystal is not as attractive as diamond, which girl doesn't like the sparkling effect? Crystal can be a friend of women, and it can also represent women's pursuit of fashion and temperament. Not surprisingly, this sparkling fashion crystal dressing cabinet will be favoured by many girls, highlighting their sparkling charm. Want your bedroom to be unique? The makeup vanity table set in the picture above shows its own STYLISH CRYSTAL DECORATION. Its vanity mirror and drawer handles are decorated with artificial crystals, which will definitely make your dressing table more distinctive and dazzle with brilliance!
3. High Quality & Sturdy Metal Frame
The picture shows that Elecwish's makeup vanity table set is made of P2 grade environmental MDF. Besides, it equipped the solid wooden table and bench legs which are foam with 100% polyester seat cover!
4. Soft Cushioned Stool
Still sitting on a hard, uncomfortable stool? I bet that for the cognition and use of a good stool, you must only open the aspects it is used to sit. In fact, it also has a hidden function!
The stool not only can be used as a dressing stool, but also has the function of placing clothes, changing shoes, preventing the quilt from slipping off and decorating your home space!
Elecwish makeup vanity table stool is made of a high-density sponge, which can ensure a more comfortable sitting posture. Breathable fabrics and thick cushions increase comfort. The ergonomic height of the stool allows you to sit comfortably for a long time. Moreover, it can be used alone as a shoe stool or footstool and bring exquisite style into your home space.
How can you miss this with a soft stool standing beside your makeup dressing table?!
5. Large Storage & Perfect Size/Free Makeup Organizer
I can promise that almost all Elecwish makeup vanity sets have 2 large makeup drawers and 2 small movable drawers, their vanity desk provides large storage space to keep everything needed within your reach. You can hide everything you usually use in these drawers. The beautiful magic is always waiting to be used by you at any time!
There is a point that you have to notice that Elecwish makeup vanity table sets not only are adequate capacity , but also show perfect size that makes this vanity tables become the best choice for your room. The exquisite and unique exterior design brings a refreshing experience.
To be honest, some Elecwish makeup vanity are full of surprises! For example, the makeup vanity table set not only has 2 big storage drawers, one of which has four detachable compartments, but also includes a free Make-Up Organizer! I still remember that, Obviously, it's the ideal for your loved one.
I still remember how I used to face the cluttered makeup table every morning. The truth is that I can't find a comb when I want to comb my hair or a sponge ball when I want to prepare for makeup, that's so terrible! It's time to be real to yourself, the drawers and organizer are really significant!
6. Easy to install & assemble
Only some simple assembly is required by attaching the legs to the stool and table, as well as assembling the mirror and attaching that. All parts and instructions are included in this vanity makeup table set. The Vanity Table Set in the picture above included: 1 x Vanity table with 2 storage drawers, one of which has 6 compartments, 1x square rotating mirror, 1 x cushioned stool, 1x free makeup case.
Luckily, the girl @officially.val recorded a simple assembling video of the makeup vanity set, watch below to view it. So you don't have to worry about getting into the assembly dilemma at all, because the parts of the dresser can really create a complete exquisite home in just a few steps!
 7. Ideal Gift For Loved Ones
"Nature gives you the face you have at twenty; it is up to you to merit the face you have at fifty." If you are a male, do you realize that your partner is beginning to become haggard due to the stress and polishing of life? If you are a female, do you still maintain a radiant face and full of charm? If the answer is no, then Elecwish's makeup vanity table set combination will be your ideal choice.
Elecwish Makeup vanity table set can be your ideal gift and can present this as a Christmas or Birthday Gift to your wife or your children. Worried that the material of it is inferior? Elecwish has premium materials to make up it. Whether PU leather or P2 grade MDF can keep this gift alive for a long time. Afraid that the drawers of it are too small or difficult to open? Elecwish's Makeup vanity table drawers have sturdy handles, a large amount of storage, and even a small four-separated space. This gift is a good value for money. Felt anxious that the design of the structure or the colours are not good-looking? Elecwish's Makeup vanity table sets are all matched and designed by professional designers according to the aesthetics. Stylish and novel design, elegant table with a gorgeous golden frame or more elegant and beautiful marble elements added to the surface of the table and so on. There are only designs you can't think of, and there are no styles you can't buy!
Light your Home and Keep Exquisite Lifestyle From Now
Well, Elecwish Makeup Vanity Table Set equipped with adjustable brightness mirror; high quality & sturdy metal frame, soft cushioned stool and large storage, perfect size or even Free makeup organizer with their Unique & Exquisite Design which are also very easy to install & assemble, they can be your ideal gift for loved ones!
What's more, the girl @officially.val also recorded a video about her feeling of Elecwish makeup vanity table, click to see https://www.youtube.com/watch?v=qACAWUkV6Bs!
Action is better than heartbeat. Gathering so many advantageous secrets of Elecwish Makeup Vanity Table Set, hurry up and make it yours!
How to Purchase an ELECWISH

 

Makeup Vanity Table Set?
Way1: Want to choose one product in the picture above? Just click the picture or some titles with underlined, then you can enter the purchase interface of product introduction, you can continue to browse and select in detail.
Way2: Want to browse all Elecwish makeup vanity table set? Click https://www.elecwish.com/collections/makeup-dressing-table, then you will enter display interface of all products! Choose anyone you like and buy it.
Way3: Want to read all Elewish products? Click https://www.elecwish.com/ to see all!
If you have any questions, please don't hesitate to contact us. We are always willing to help you!