Bedroom
Best Makeup Vanity Tables For Your Bedroom
by James Lee on Oct 15, 2021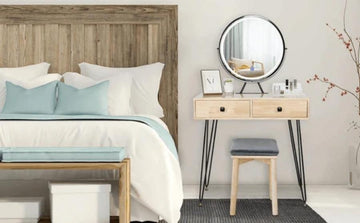 There is no doubt that beauty is everyone's right. Do you have your own makeup vanity table? Elecwish provides you with a variety of options to choose! If you are worried about the quality of the makeup table, if you are not sure whether the size of the vanity table is suitable for your small and cozy space, or if there is not enough storage space in the drawer, or you are worrying about buying a table without mirror for makeup and cushioned stool for sit. Then consider what others think about our makeup vanity table and then decide whether to buy it again. Customer recognition is our greatest support!
One of the best makeup vanity tables on our website in this blog is our makeup vanity tables. It has angle-adjustable round cosmetic mirror and square dressing table desktop, which make it a refined style and easier to make up. The combination of metal frame and wooden drawer is simple and stylish. 2 big storage drawers, one of which has four compartments. Besides, it is easily to storage cosmetic and brush.
Of course, the customer's evaluation is absolutely true. Don't miss any details. Think about which is the most makeup vanity table set for you, maybe this will be your ideal one. Besides, you can also follow the blog afterwards. We will also release other makeup vanity table sets reviews or recommendations in subsequent blogs, so stay tuned. Now, you can read its reviews from below.
1. Perfect Elecwish Makeup Vanity For Any Small Space! Mirror is great!
 When you are also looking for a small vanity to go in a small corner of your room, how about choosing this Elecwish makeup vanity table set and enjoying its super cute with Kayla Christy? Of course, we can provide its dimensions in details for you to consider. The table dimension is only 31.50"L x 15.7"W x 30.7"H, stool dimensions is 11.8"L x 11.8"W x 17.7"H, and the mirror diameter is 19.7"! What's more, it's easy in assembly. Some simple assembly is required by attaching the legs to the stool and table, as well as assembling the mirror and attaching that. All parts and instructions are included in this vanity makeup table set! Just got together in less than an hour, and you can own an ideal small makeup space. Besides, there are even many options for you to choose from!
2. Great Product, Great Customer Service From Elecwish
To be honest, I really like this cat and I guess maybe she is looking her face and body from our mirror in an enjoyment and comfortable posture! Back to the topic, This Elecwish makeup vanity mirror and drawers are highlights. As for its mirror, just as what Rebecca said, its lighting feature can be too cool! Assembly was a breeze, and it looks exactly like a picture. Actually, you can just touch mirror's screen, and it can adjust between 3 color lighting modes for different scenes! You can discover this point from the picture below.
This three-color lighting effects allow you to test whether you maintain a good makeup under different lights before going out with your sisters! You are destined to be the protagonist at the party!
3. Simple Assembly And Elegant Elecwish Makeup Vanity Table
 According to LucindaDietrich reviewed, you will also surprise by how much I could fit inside the drawers and how much space the counteroffers. This Elecwish makeup vanity table set has 2 large drawers for various accessories and makeup tools. What's more, there is a makeup organizer to offer extra space to store cosmetics, perfumes, lotions, brushes. You will never worry about your storage space with this one!
4. Great Makeup Vanity Table, Legs are Gorgeous!
Thanks to the love from Lars Rosendahl. Although the stool may not beautiful, but it's obviously sturdy. A solid wood material table with solid steel legs is more durable, and the wood color of this makeup vanity table is more natural. Besides, our stool with wooden legs and thick soft sponge cushion can provide a comfortable experience and the scratch-proof adjustable table legs protect your floor. There is also an attached with side drawer rails for smooth movement and silence.
4. How to purchase an ELECWISH Makeup Vanity?
You can click on the underlined headline in the blog or click on the picture. Now we have 2 presentation forms for you to choose the ideal one you like:
DUAL-PURPOSE ONE:
If you want to read more products, just click ELECWISH website
Of course, If you want to see more detail about this makeup vanity table, click here to see.
If you have any questions, please don't hesitate to contact us. We are always willing to help you!