Bedroom
Elecwish Makeup Vanity - Best Gift For Loved One
by LeeJames on Oct 24, 2021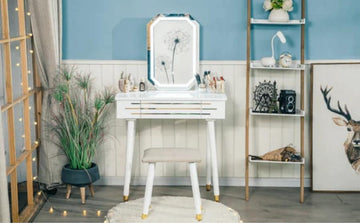 Halloween is coming up, and few holidays tap into American psyche so closely as Halloween. We all know that children would make Halloween decorations, all kinds of orange-paper jack-o'-lantern at that days. Pumpkin, candy, spider web, bones, bat or string lights, among these things so far, how many small items have you bought for your Halloween? Meanwhile, have you started preparing for a game of tricky friends or an elaborate carnival party?
If you are a little bored and disinterested, you might as well have a special heart-warming Halloween with "not haunted". If you have girlfriend/wife or best girlfriends, you can spend an unforgettable holiday by exchanging gifts with her/them.
What I have to tell you is that there is a dressing table collection, you can not only buy a beautiful makeup vanity table set to give to your beloved, you can also get free string lights to decorate your Halloween party or house. Don't miss this great opportunity, which can be thought as shooting two hawks with one arrow.
Each makeup vanity of Elecwish is elegant and unique. We would love to recommend one of them to you. The following are its special features. It is the perfect choice as a gift.
Elecwish Makeup Vanity with Adjustable Brightness Mirror
Just touch the vanity mirror, this makeup vanity mirror can adjust into 3 different brightness for your loved need, which are cool white, warm and yellow light. 3 color temperature LED light with dimming function and intelligent touch button. These different brightnesses can let her make up more delicate and elegant every time. The switch can be operated normally with a wet hand.
This unique style vanity comes with a cushioning stool and adjustable lighted mirror to help you get ready in the morning every day.
Simple & Delicate Appearance

Design of Elecwish Makeup Vanity
Worried that this makeup vanity table set is exactly the same as most other products and there is nothing special? Then this point perfectly solves your worries. Well, only special gifts are worth giving to her beloved. Square cosmetic mirror and square desktop make it a refined style and easier to make up. Golden line and elegant white appearance are simple, elegant and in style. It can match your other furniture perfectly and adds fashion magic and charm to your room.
Premium Material of Elecwish Makeup Vanity
Made of P2 grade environmental MDF and mental legs, this makeup table set provides sufficient stability and excellent load-bearing capacity. Cushioned seat offer you comfortable position to do your makeup and hair and a solid drawer slide are not easy to damage, suitable for long use.
Premium metal handle and smooth drawer slide allows you to easily open the drawer and hide your beautiful weapons. HD dilemma silver mirror is not only pleasing to the eye, but also gives prominence to the nobility and elegance of the person looking in the mirror. Besides, thick and soft padded stool and sturdy metal legs provides you a comfortable sitting position, enjoyment and peace of mind makeup experience.
Elecwish Makeup Vanity is the Best Choice as Gift
Overall, great and easy assembly with a couple of modifications. Beautiful. This vanity table and stool are shipped separately. This totally can be seemed as a Halloween or even Christmas gifts for your girl who is just starting to enjoy hair and makeup or who always keep delicate makeup. Perfect choice for girls women wife daughter as a gift! 
How to purchase an ELECWISH Makeup Vanity?
If you like this makeup vanity table set, click above underlined links or pictures or US-HW1093 to pick up gifts for your loved ones.
Besides, If you want to see more types of makeup vanity table sets and enjoy our makeup vanity, click the PICTURE below and get the string light for free:
If you want to read more products, just click ELECWISH website.
If you have any questions, please don't hesitate to contact us. We are always willing to communicate with you!