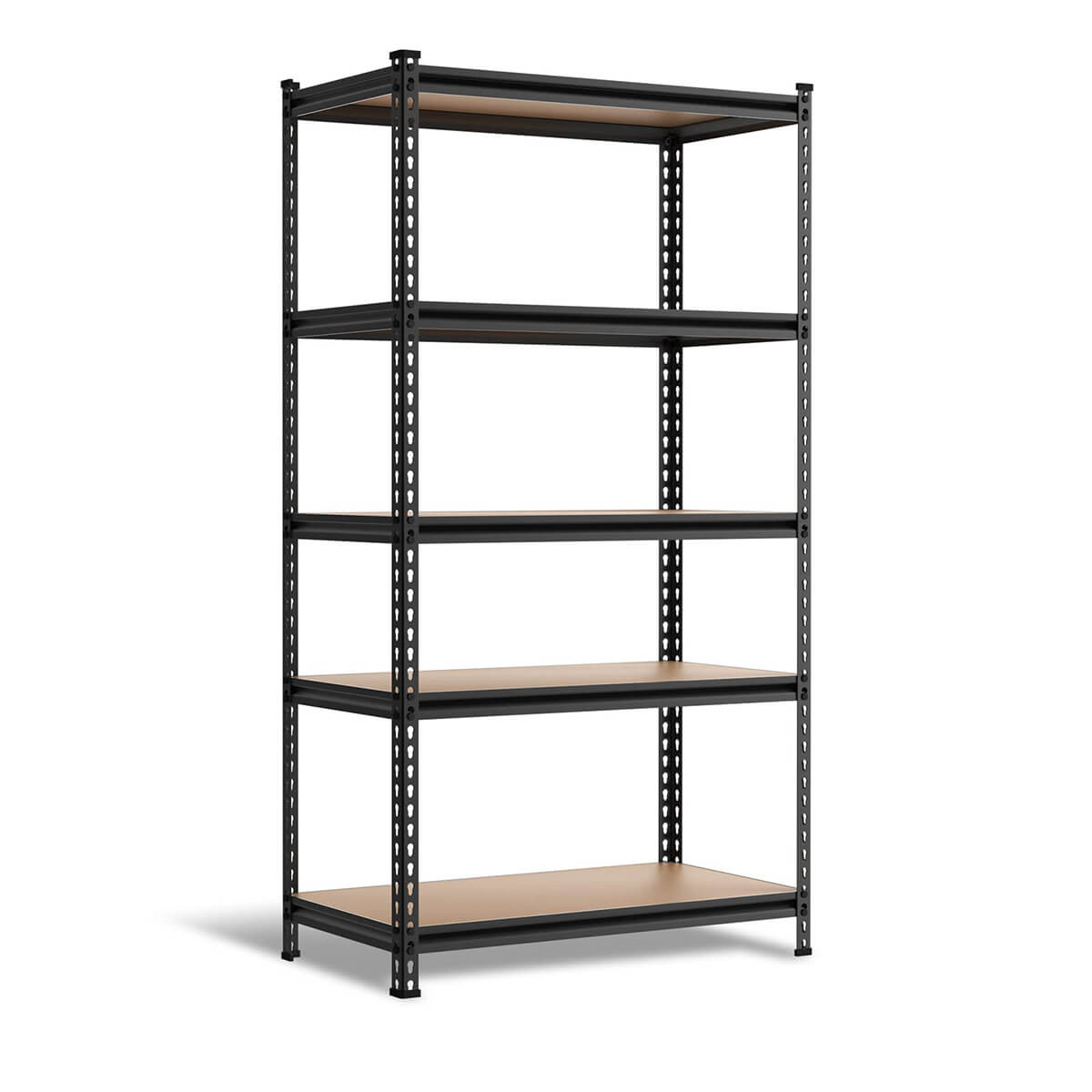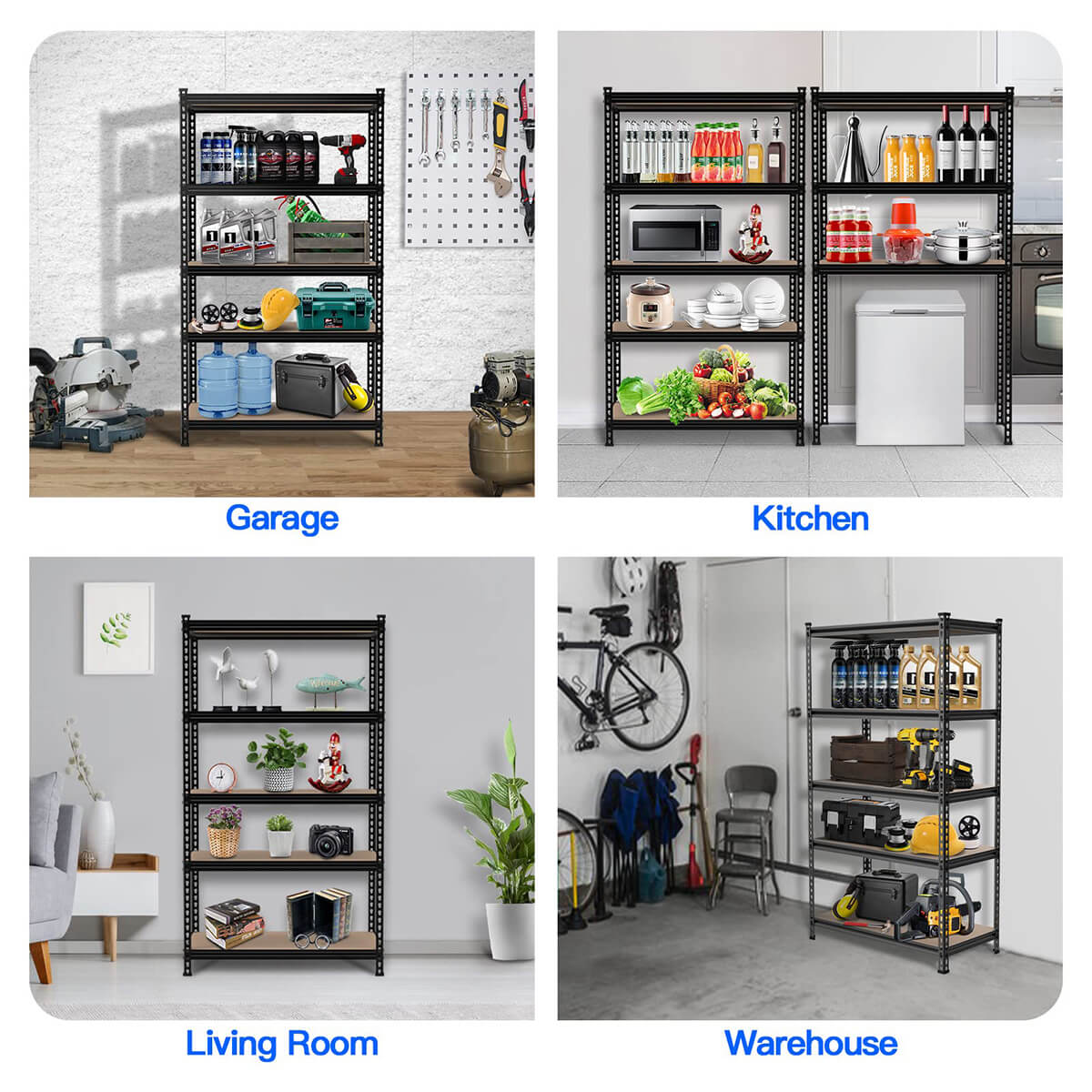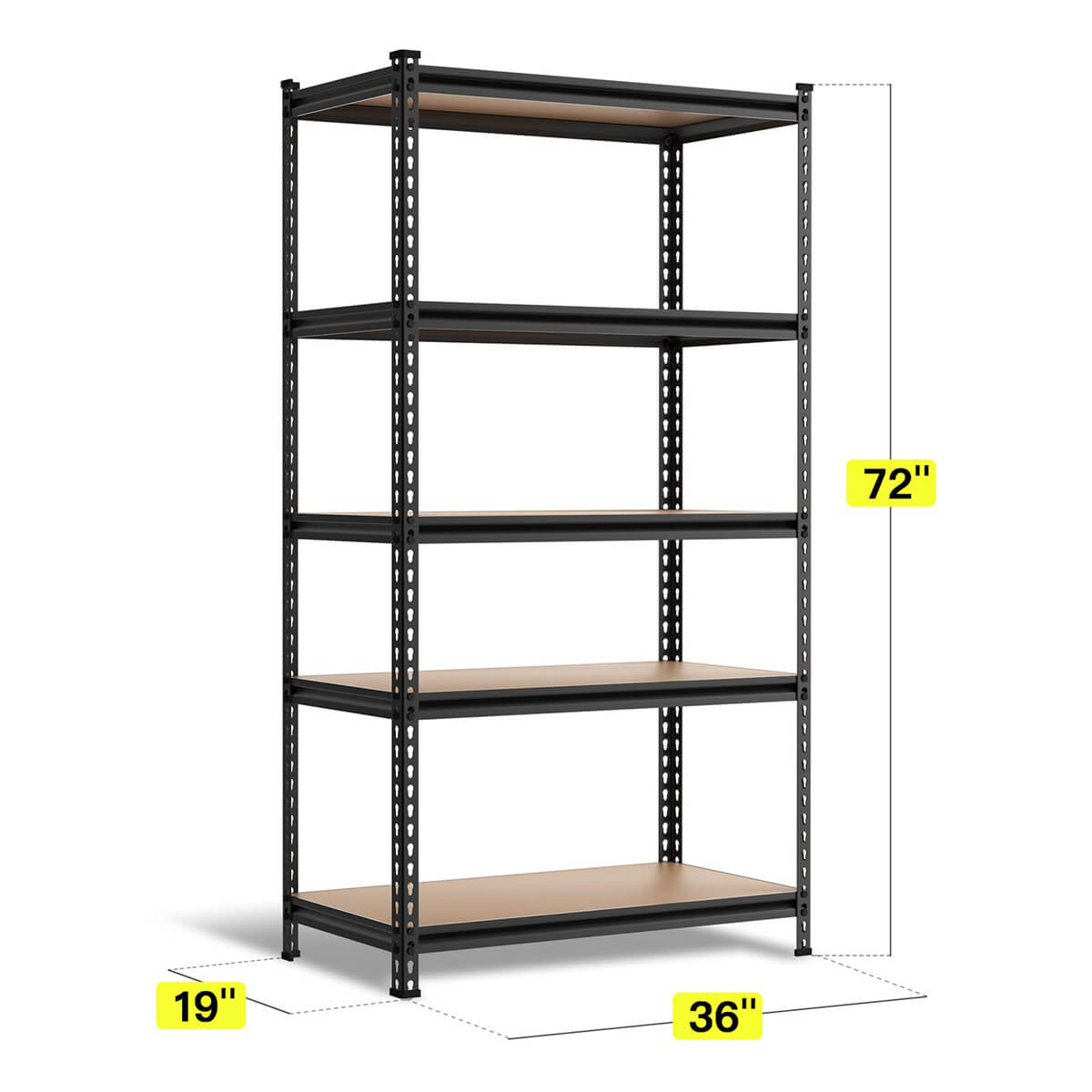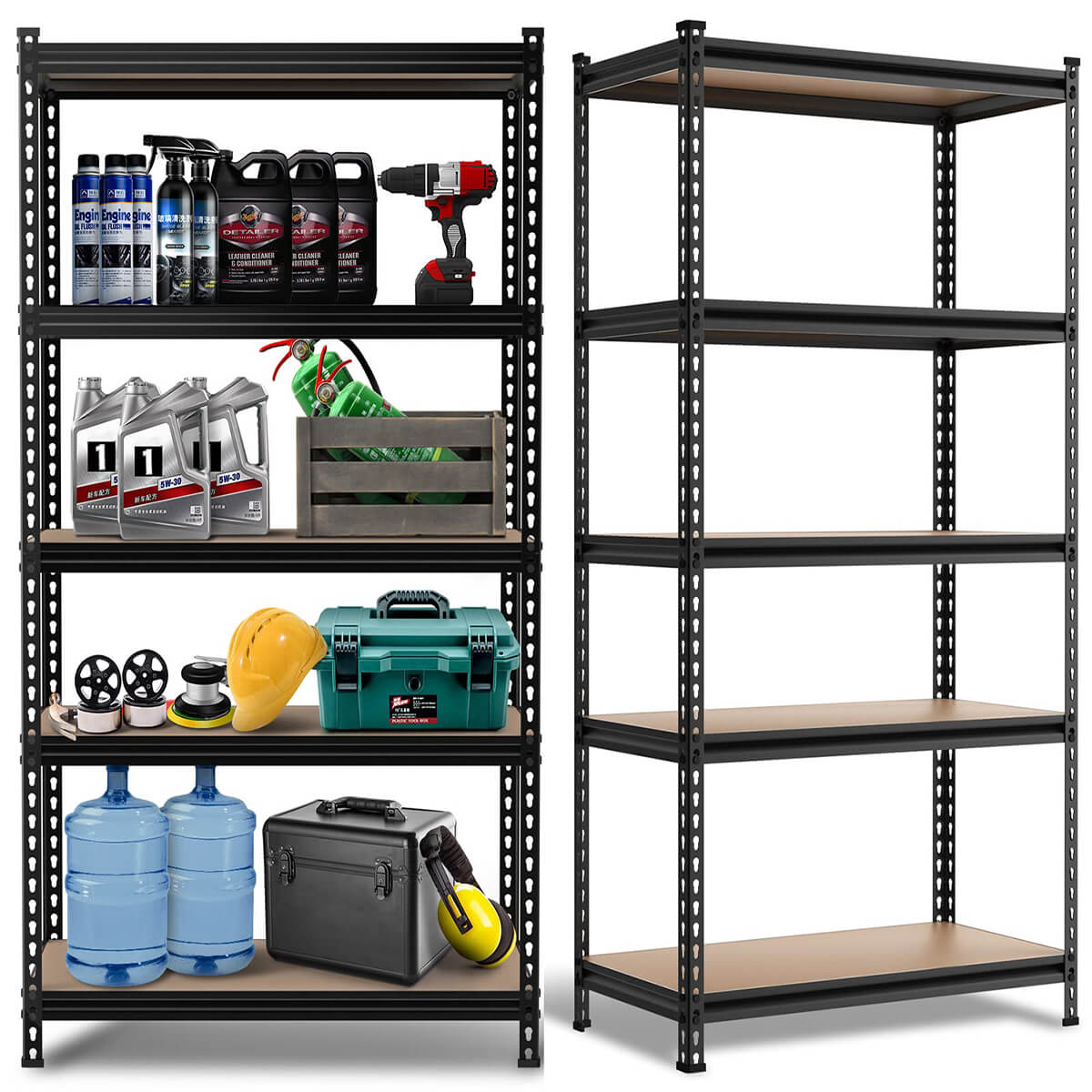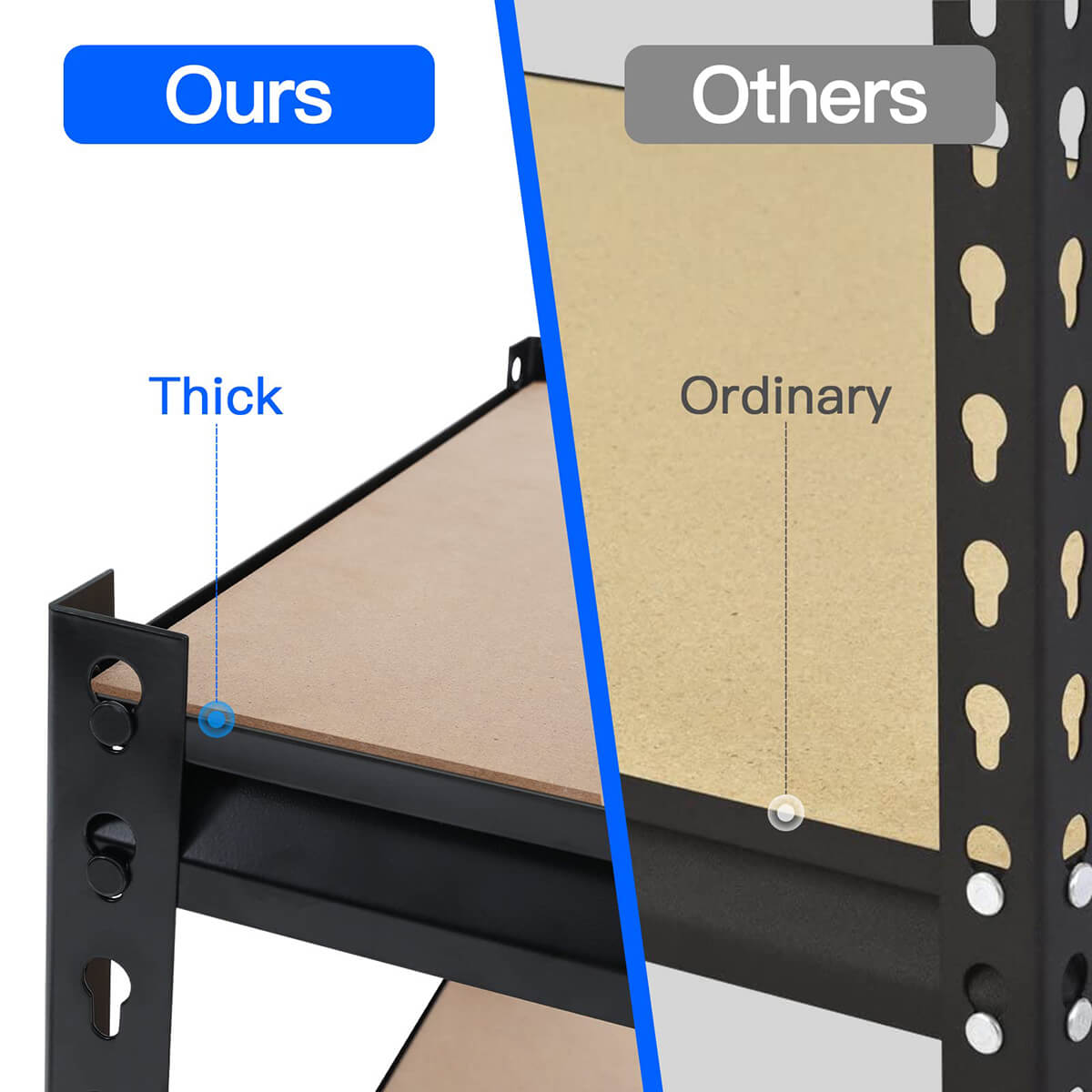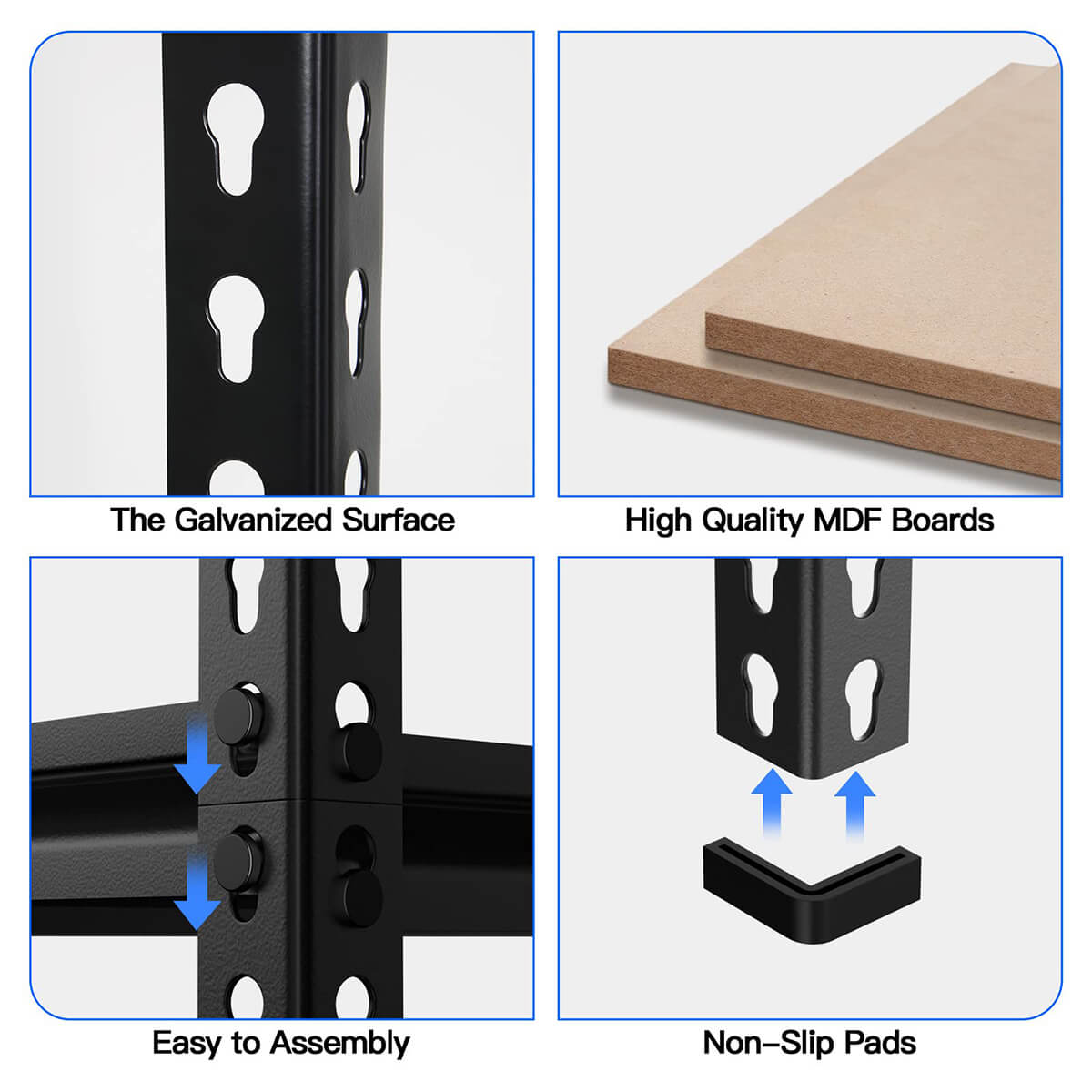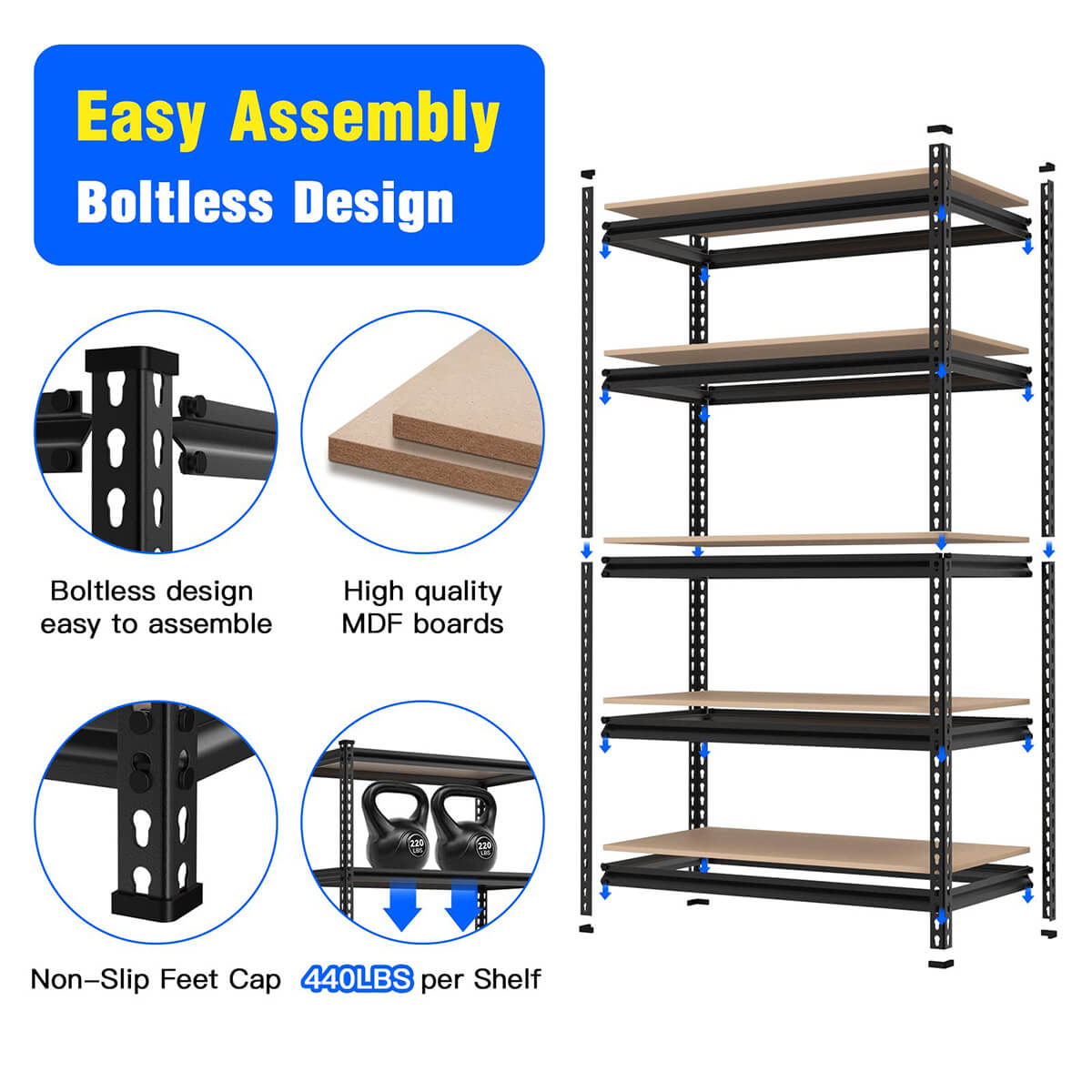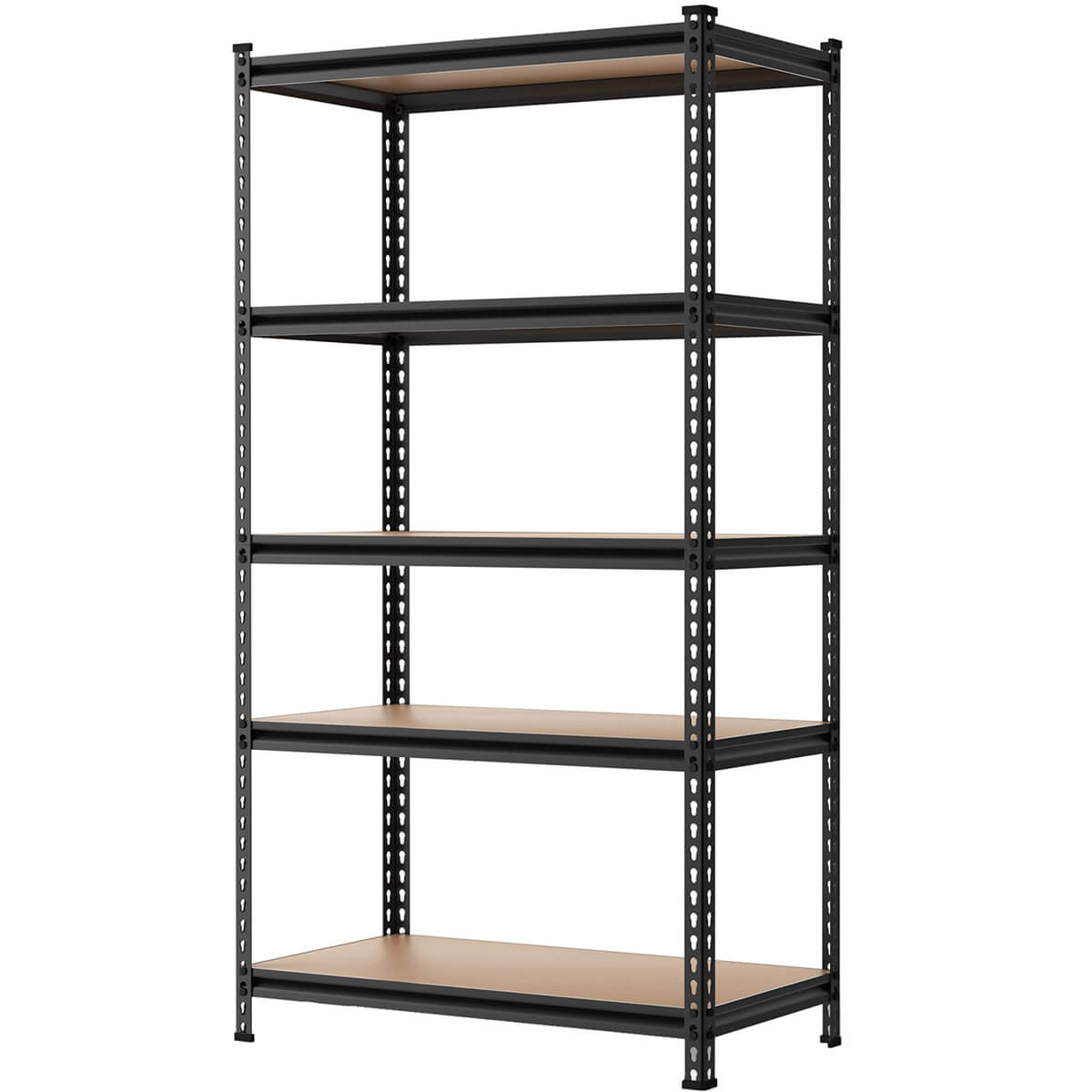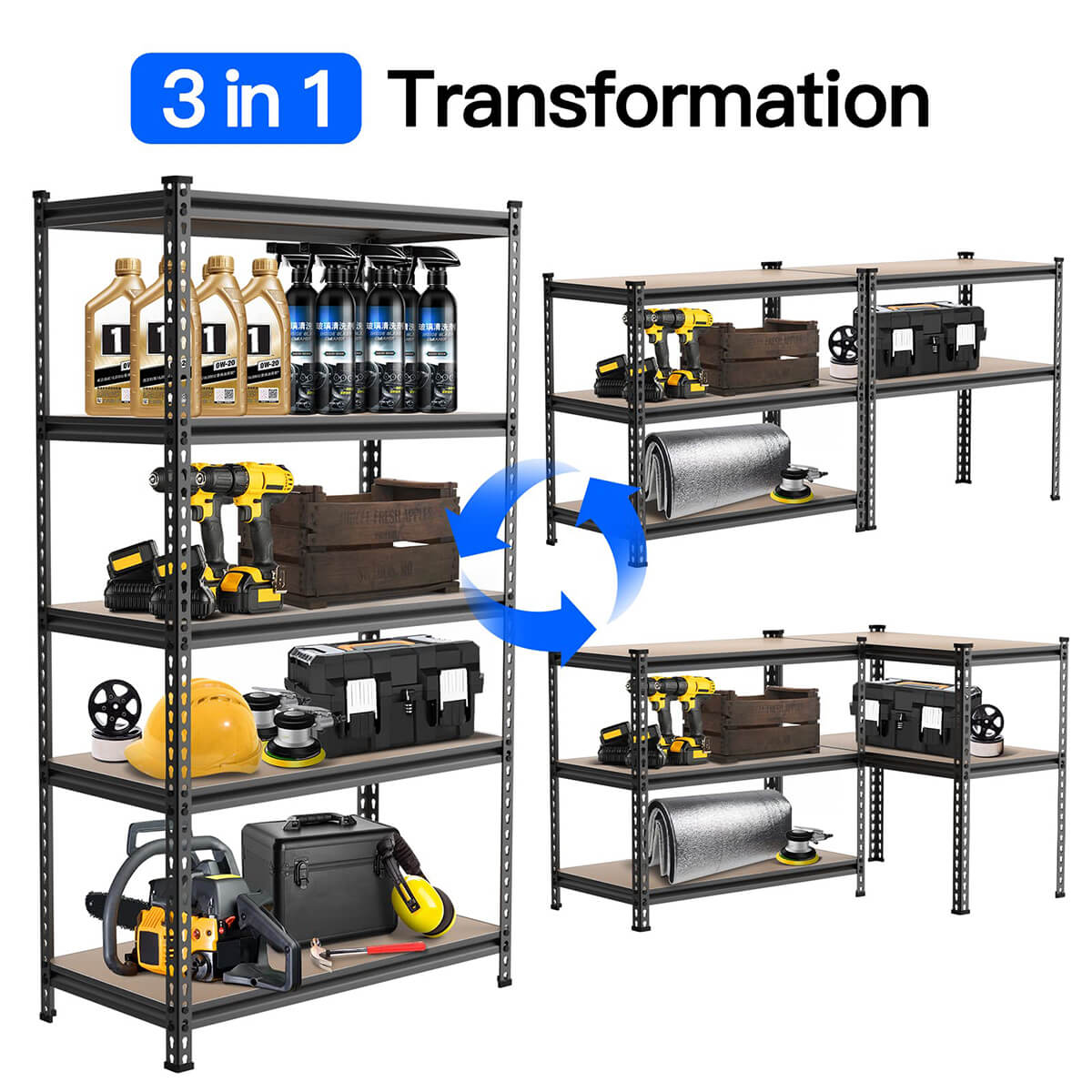 5-Tier Storage Shelves Adjustable TH715
Sale price
$129.99
Regular price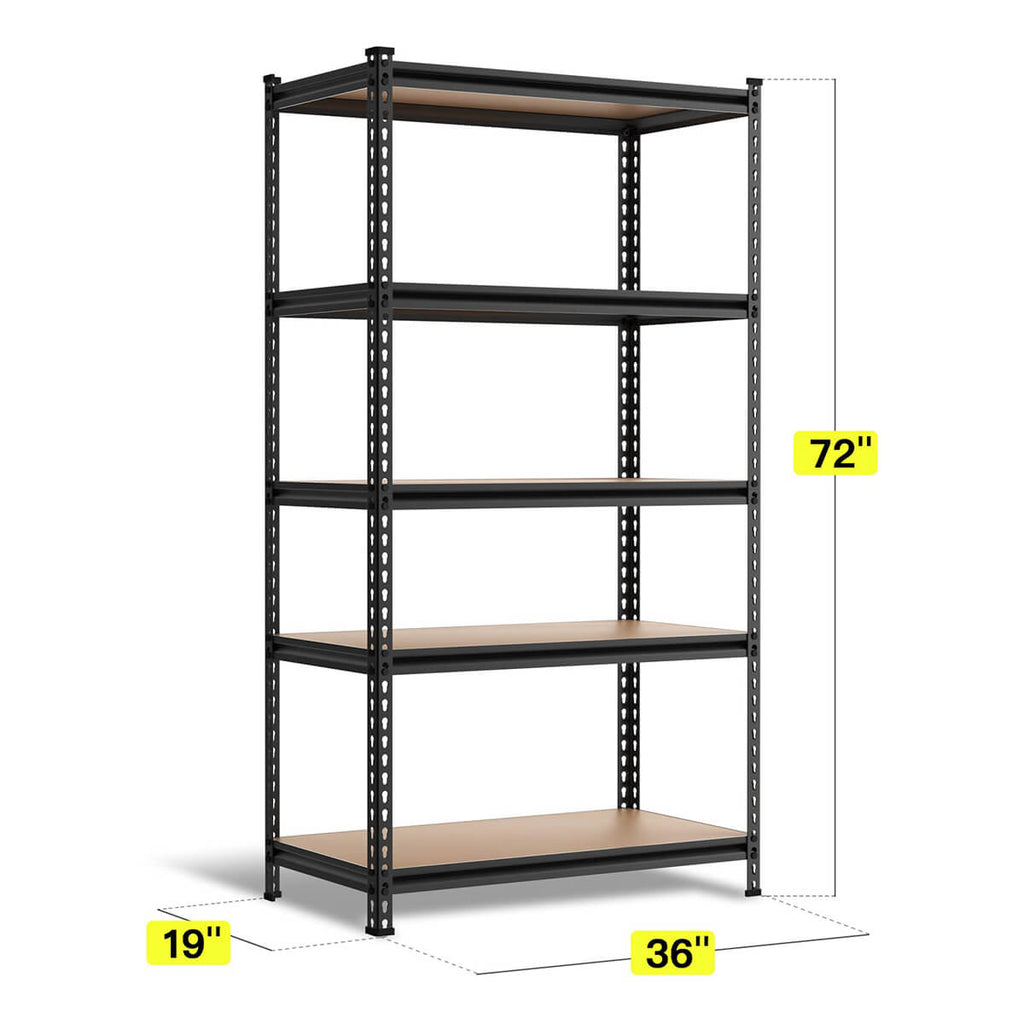 Product description
Shipping & Return
Multipurpose Shelf - 5-Shelf storage rack is ideal for home, office or garage use. The shelving unit offers a thoughtful solution to everyday storage, shelving racks are a great help in keeping all stuffs organized and easily accessible.
Shelving Tier Adjustable - Each tier can be freely adjusted the shelf up and down according to the size of the item, so you can create customized storage space. (Adjustable at every 1.18 inches).
Big Size & Heavy Duty - 35.8"W x 18.5'D x 71.3"H size support to store any large items and the steel shelving unit is made of high-quality premium steel frame and MDF boards, makes the shelf itself sturdy and stable.
Easy to assemble - The metal shelving takes special interlocking design to make it assembled quickly with your hands or a rubber hammer (not included). There are no nuts or bolts required, you can quickly assemble every stand-alone garage shelving unit and storage within 10 minutes alone.
Powerful Capacity - Max tier capacity is 444Lbs. Max total capacity can reach 2220Lbs. Each shelf covered with premium powder coating without heavy metals. Sixteen post-caps (sufficient quantity for separating into 2-modules to use) are included for your floor from being scratched.
Elecwish 5-Tier Storage Shelves

Reliable, Strong, Long-Lasting Storage !

Freestanding design that is great for the kitchen, bathroom, dining room to organize.
Coated with galvanized powder paint for ensured durability.
A simple collection for your basic storage needs.
Versatile design, ideal for home, garage, workshops, warehouse storage.
Features with no bolt, no nut design for easy assemble and disassemble.
The height of each layer can be randomly adjusted.
With feet to protect floor.
Specifications
Material: MDF & Steel
Dimension:35.8"x 18.5"x 71.3"(L x W x H)
Max. Tier Capacity: 444Lbs per
Max. Total Capacity: 2220Lbs
Net Weight:48.3Lb
3 IN 1 Transformation

Customize shelf to fit your needs. Transform your high 5-tier shelving unit into a work table or corner shelf.

It is convenient to assemble because of its bolt-free design. You can assemble it by pressing it lightly with your hands. If you need to use a tool, it is recommended to use a rubber hammer.
Various Shelf-Assembling Style(4 Styles)

Can assemble support beam in four styles depending on what types of things you load.
Height Adjustable Shelves
You can create your own storage space by moving the shelf up and down depending on the size of the storage. (Adjustable every 1.49inches)
With your creative idea, hang various objects in the post hole to increase utilization. Use it as the point of the ruler when assembling it.

Free Post Fixing Clips

We provide a set of free fixing clips for the shelf, which can make the shelf more durable and strong, and will not fall down due to any situation.

Free S-Hook

We provide a set of S-Hooks for the shelf, you can hang other things on garage shelves.

Sturdy Frames & MDF Boards

The board perfectly covers the bottom of the shelf so it keeps thin tools and stationery falling into the niche hole, also bottles or books do not fall down like wire shelves.
Kitchen & Pantry
Go beyond simple grocery store storage and turn it into your own home mobile bar.
Warehouse
This shelving efficiently organizes your items in any size. put down and lay down your burden.

Living Room
Hobbies and life are too precious to give up. Make it possible with us!
Garage
Versatile shelving unit inspires you to be more creative and imaginative.
Easy to install

Step 1: Install a safety cap on one end of the post to prevent scratches and damage.
Step 2: Use the raised dots on the beam to hold the slots in the uprights (without bolts and nuts).
Step 3: Use the protrusion on the beam to embed the joint of the two columns (Refer to step 5).
Step 4: After assembling all the uprights, clamp the top beam first.
Step 5: Assemble the middle beam according to your own requirements for height.
Step 6: Put the MDF board on the assembled beam.
Q1. When will my order be shipped out?
Once we receive your order, we will process it as quickly as possible, and the order will be completed within 1-3 working days
Q2. How much is the shipping cost?
Free standard shipping on all items.
Q3. What is the estimated delivery time?
Normal shipping time is 3 - 7 business days via FedEx/UPS. The order will be processed the same business day after you placed one. It is then picked, packed, and dispatched.
Q4 . Where are your products shipped from?
Orders are shipped directly from our US warehouses and the shipping is only valid for shipping addresses in the United States excluding Alaska, Hawaii, Puerto Rico, and Guam.
Q5. How to track my order?
You will receive emails about the status of your order. Another way, you can track online through our Track Your Order page.
Q6. What is your return policy?
We offer 30-day free return policy for product quality problem. You can shop with confidence here. More details please check our Return Policy Page.
Still have questions in mind?
Please check our FAQ page here: https://www.elecwish.com/pages/faqs
End product mice, assembly not-so
Those darn tabs... they need to "weave" back in, not poke out of the uprights. I get it, for structural integrity. But darn if it took half way though the first set, for any of them to go, unforced, on thier own By the second unit, i figured out if I use my thumb to ever so slightly bend the tabs in, then use plyers and almost imperceptibly bend just the very very tip in it helps. Notice I said "helps". It makes shoving each tab back into place ever so slightly better.The 12 inch pieces that are flat, not ribbed, go across the center of each shelf. Its hard to find that in the directions.End result looks nice.
It is a low cost option for lighter storage
I installed two of these shelves in my basement for storage. The were easy to assemble. I store overflow kitchen gadgets, Christmas decorations, a few cans of paint and some packed away China. It holds them well, and I am not concerned about it breaking.If I had heavier items to store, I would go with a more expensive shelving unit. They say that it can hold up to a lot of weight, but that weight needs to be distributed over the whole shelf, rather than one heavy item.It is a great value for its price.
Sturdy, little challenging to assemble
Nice shelves, I ordered 5 and make a large work station for the basement. They were a little difficult to assemble. The shelves could be wider but overall decent product.
Great for storage.
As with everything the prices went up. These are $50 shelves, 4 years ago $75 would have bought you very sturdy shells, these are not heavy duty at all. But they do work great for general storage. The wood bottom is very thin, but will do the trick to hold boxes and stuff that is placed on them if you are looking for a shelf to throw your saw and other tools without worrying about how much force you are using, this is not the shelf for you. It is super easy to put together 30 minutes no problem I bought three of these because I was just making room in my garage to get stuff off the floor and make it look better. They work perfect for that. Also check out the different prices for the different colors, I do not get it but for $15 less I will take a different color.
Great Shelf easy to assemble
Shelf exactly as described, easy assembly. While assembling, checkout the Grim Podcast of Perilous Adventure and see if Griggs and Dennis 2.0 can keep the party alive throughout their perilous misadventures.