Outdoor
Six reasons for why to choose Elecwish Outdoor Patio Cooler Cart
by Clerk Wine on Jul 15, 2021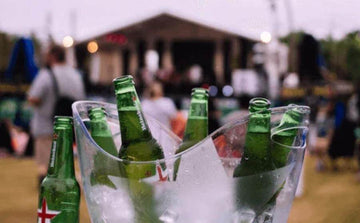 Ordinary portable refrigerators cannot be moved and are inconvenient to clean. The heavy cabinets affect people's moods. This is not the best choice. Elecwish Rolling Ice Chest with Bottle Opener is a better companion. What's more, there are six reasons why to choose Elecwish. 
1. Exquisite Appearance, 72 Hours Constant Temperature
The high-quality iron shell is smooth and bright, and the red color is eye-catching, making people find it immediately when using it. A long time of carnival does not affect the temperature in the box, and long duration of cooling which reach 72h.
2. Sufficient Space & Suitable Height
Outdoor Cooler Cart could store up to 100 cans/50+bottles and keeps cold for days. This is the best choice for parties and BBQ. The height of 33.3 feet makes it easy to take things. You, your family, and guests no longer need to bend over frequently to take things.

3. Easy To Clean
The Elecwish terrace cool trolley is equipped with a convenient drain plug that allows you to easily remove excess water and clean it. It is no longer necessary to carry heavy objects for cleaning, just open the plug. It is convenient and fast, but also saves time. The remaining water can also be used to water outdoor grass, which is environmentally friendly.
4. Move Safely
Ice Chest equipped with 4 wheels which allow you to move it anywhere. Rotates 360 degrees for easy transportation. Two wheels with a lock keep it in place. It can be placed in any corner of the party and has 2 wheel holders, which is very convenient. Don't worry about the children's participation and let them get hurt.

5. Add Bottle Opener & Bottle Cap Catch Bin
Humanization design. The dual top is made for easy opening and closing. Convenient bottle opener and bottle cap catch bin attached to the side. There are handles on the side for easy pushing. Don't worry that guests can't open drinks or trash is thrown away at will to ensure that the party is tidy and clean.

6. Suitable For Outdoor Gatherings, Parties, and Other holiday activities
You can organize parties for hundreds of people or family dinners without affecting the event at all. It is a good tool for holiday events. A pleasant temperature can make parties, dinners, or holidays happier. Make sure you select this patio cooler cart today and enjoy outdoor parties with a cool drink.
How to purchase this ELECWISH Outdoor Patio Cooler Cart?
Here are the links to this ELECWISH Outdoor Patio Cooler Cart on the official website. 
Website☞https://www.elecwish.com/
If you have any questions, please don't hesitate to contact us. We are always willing to help you!