Gift Ideas
Best Christmas Gifts Guide of 2023 For Your Loved
by LeeJames on Dec 15, 2021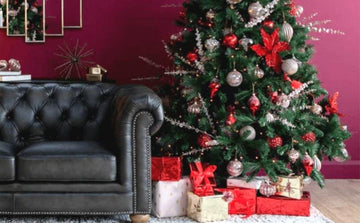 Black Friday and Cyber Monday have passed. Do you feel that you haven't enjoyed the happiness of the promotional activities very much? So in the last few dozen days of 2023, it's time to start strictly the holiday shopping experience get ready to go shopping on Elecwish and be full equipped for optimum gifts. Though Elecwish do not sell Christmas trees 🎄, any of our homes or small items can provide unique value and meaning for your holiday and your home! At Christmas, send the best Christmas present 🎁 to someone, maybe your parents, boyfriend/girlfriend, mate or your child, let someone sense the joyful meaning and great experience of the holiday!
We have listed the most perfect gifts for Christmas in 2023 here. You don't have to spend a lot of time to choose and buy a lot of money, enjoy browsing this list of holiday shopping gifts that belong to you as much as you like, and every item here is worth the money.
🎁 
Beauty Secret For Makeup Lady   
Press the button on mirror, there are 3 kinds of LED lights to adjust, which are cold light, natural light and warm light.
Everyone purchases and yearns for beauty. It may well be asked that which girl in the world doesn't dream of having a makeup vanity tale? A elegant vanity table can not only keep a girl confident whole day, but also make her face or makeup glowing with health. This Christmas, give this secret of beauty to the girl in your heart or to yourself.
No matter what style of makeup vanity table set you or your loved prefers, we have them all, except for individual products that are not in stock.
🎁 

E-sport Gifts For Game King
Yourself or your boy obsessed with playing computer games? Hey, a gaming chair is what you, or he needs! Delight yourself or the men in your life with the most trendy, cool, and useful gifts in this Christmas. You or He deserves this ideal seat of choice for working, studying, and gaming.
Why should you choose Elecwish gaming chair? Because Elecwish gaming chair has many kinds of styles, colors and features for customers to pick and shop.
High back, large size, ergonomic, adjustable swivel, reclining...... come to pick one for you or for your loved one!
🎁

 Indoor Play Equipment For Little Sports Fan
Spoil your tiny sports fan with the perfect Christmas gifts which can make your little ones entertain during snow days with an indoor exclusive play equipment.
Due to the impact of COVID-19, many children have lost the world to breathe the air of nature and play carefree outdoors. What a mess for those little sports fans who not having limited space to crawl is terrible for them. So this Christmas holiday, as an adult, do you want to give them a happy and safe childhood experience? Elewish is committed to creating a fun experience for kids who are keen on sports at an early age, and found the following premium kids' items for parents to choose from.
14 panel portable kids safety yard with safety locks and educational toys
Compared with other games without toys, our comprehensive activity wall will really attract your baby, help you develop your senses early, and promote independent play.
Anyway, this Christmas of 2023 will be different from the past, because you have met us. Elecwish has many items suitable for Christmas gifts, as well as various furniture items suitable for family decoration. Fill the stockings with perfect small objects, put gifts under the Christmas tree, decorate with our furniture at home, hang our shinning and colorful string lights anywhere, eat Turkey-based Christmas dishes with family, and finally hod a family party. It's great, Oh, please, I can't wait!
Hurry up and get ready for this Christmas, oh yes, don't forget our Christmas promotion and the end of the season sale.