Bathroom
Time to Remodel Bathroom With Artistic Vessel Sinks
by Emily Watson on Jan 27, 2022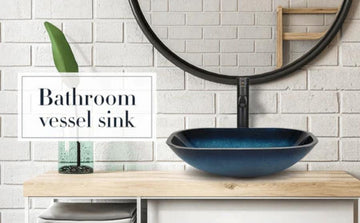 New year, new atmosphere. Are you planning to remodel your home in this new year? No matter the answer is yes or no, the bathroom design has always affected every aspect of our lives!
Wearied
 of undermount sinks, a change of style will
take your bathroom on an altogether new aspect
. 
Sometimes, a bathroom
has 
a style
that 
can 
see 
big 
things 
through 
small 
ones
. 
Statistics show that the bathroom vanity sinks are one of the most popular style of sink in recent years.  If a simple home wants to have an artistic atmosphere, we might as well add the nobility of the Victorian period from the bathroom sink.
1. Modern and Stylish Design of Bathroom Sink Fit Perfectly with Any Bathroom Decor 
🌟 SKU: USBA20076-1
Sale price < $150
This Artistic Square Bathroom Glass Vessel Sink with Faucet shows the noble sea blue and unique artistic style. Its features are also listed below.
Features
Designed for Above Counter Easy Installation

Smooth Tempered-glass Surface is Easy to Clean Up

ORB Faucet is Stain Resistant

Standard Lavatory Plumbing Connections(1/2-inch FIP)

All Mounting Hardware and Hot/cold Waterlines Included

Free ORB Pop Up Drain and Mounting Ring is Included
2. Bathroom Sink's 

Slick Touch Texture Gives Comfortable Sensation
🌟 SKU: USBA20077
Sale Price <$150
Different from the first artificial bathroom sink, the blue of this one is a little more agile and transparent of the deep sea, Glossy surface is easy to clean up. Besides, this bathroom vanity sink is made from high quality thick tempered glass to prevent breakage, scratch-resistant glass keeps a long-lasting beauty, this sink dimension is 16.5'' W x 5.5'' D, Bowl thickness: 0.5". What's more, ORB faucet, Pop-up Drain and Mounting Ring are all included, Faucet in oil rubbed bronze finish to enhance all bathroom.
3. Artificial Hand-painted Pattern let the Beauty of Your New Bathroom Vanity Shine Through
🌟 SKU: US-BG1007-S
Sale price < $150
Hey, if you are a little resistant to deep sea blue, then this light blue bathroom sink is definitely your best choice! This is the bathroom sink shown on the cover. This square blue Artistic Vessel Sink also have outstanding value. It can be said that the characteristics of these art basins can meet your needs.
Package Include
- 1 x Vessel sink
- 1 x 1/2" adapter
- 1 x ORB Faucet
- 1 x Oil-Rubbed Bronze Pop up Drain
- 1 x Hot & Cold Waterline
- 1 x Mounting ring
- 1 x Installation Manual
 4. Artistic Bathroom Vessel Sink with Other Hand-painted Colors
🌟 SKU: US-BG1001
Sale price  < $150
Well, have you seen the movie Venom? In fact, the texture on this is so similar to the random spread of venom! If you have no fixed pursuit of style, and you are not limited to one form, then the swaying line texture on this bathroom sink is perfect for you.
Features:

- Artificial hand-painted design
- Solid tempered glass construction
- Smooth surface is easy to clean up
- Designed for above counter installation with standard US plumbing connections

Nebula Style Modern Decorative
🌟 SKU: US-BG1003
Sale price <$150
Naturally Graceful, Effortlessly Alluring. This Nebula Style Modern Decorative Vessel Sink Combo with Oil Rubbed Bronze Faucet & Pop Up Drain is a Celebration of Artistry and Design.
Chosen with 0.6-Inch Wind Shield Tempered Glass, Glossy Polished and Adorned with 3 Layered Hand Painted Pattern Forming Nebula Blue Scene Crafted in the art of Modern Baking Process.
Full Brass Structural 12-inch Modern Single Hole Faucet with Zinc Alloy Shell in Oil Rubbed Bronze Finish can Establish Classical Solemn and Contrasted the Vessel Paint Pattern Ideally. Ascend True Beauty for lavatory basics with this Sink Combo.
How To Purchase These 

Artistic Vessel Sinks?
These 5 sinks are absolutely gorgeous and all include faucet and pop up drain! They are also top 5 on our website! You can just click the picture of bathroom vessel sink you are interested in or click the words with underlined. These two ways will all turn to the detailed purchase page for bathroom sink where you could view pictures and product descriptions, add to shopping!
Choose any bathroom sink to add art and nobility to your bathroom this New Year. What's more, they are all great holiday gift & birthday gift for mother, father, wife, husband, kids, friends. New Year, new gift for a new bathroom.