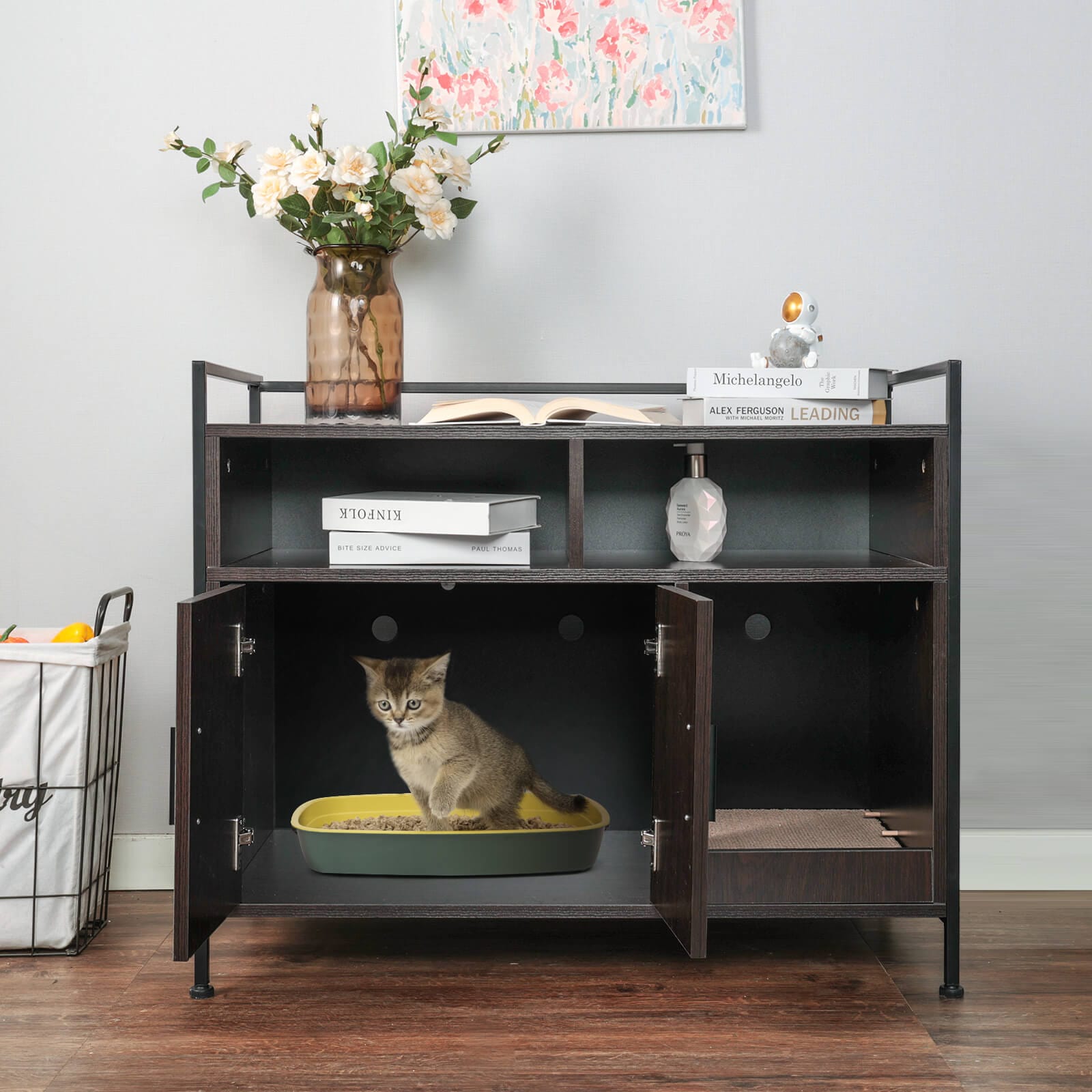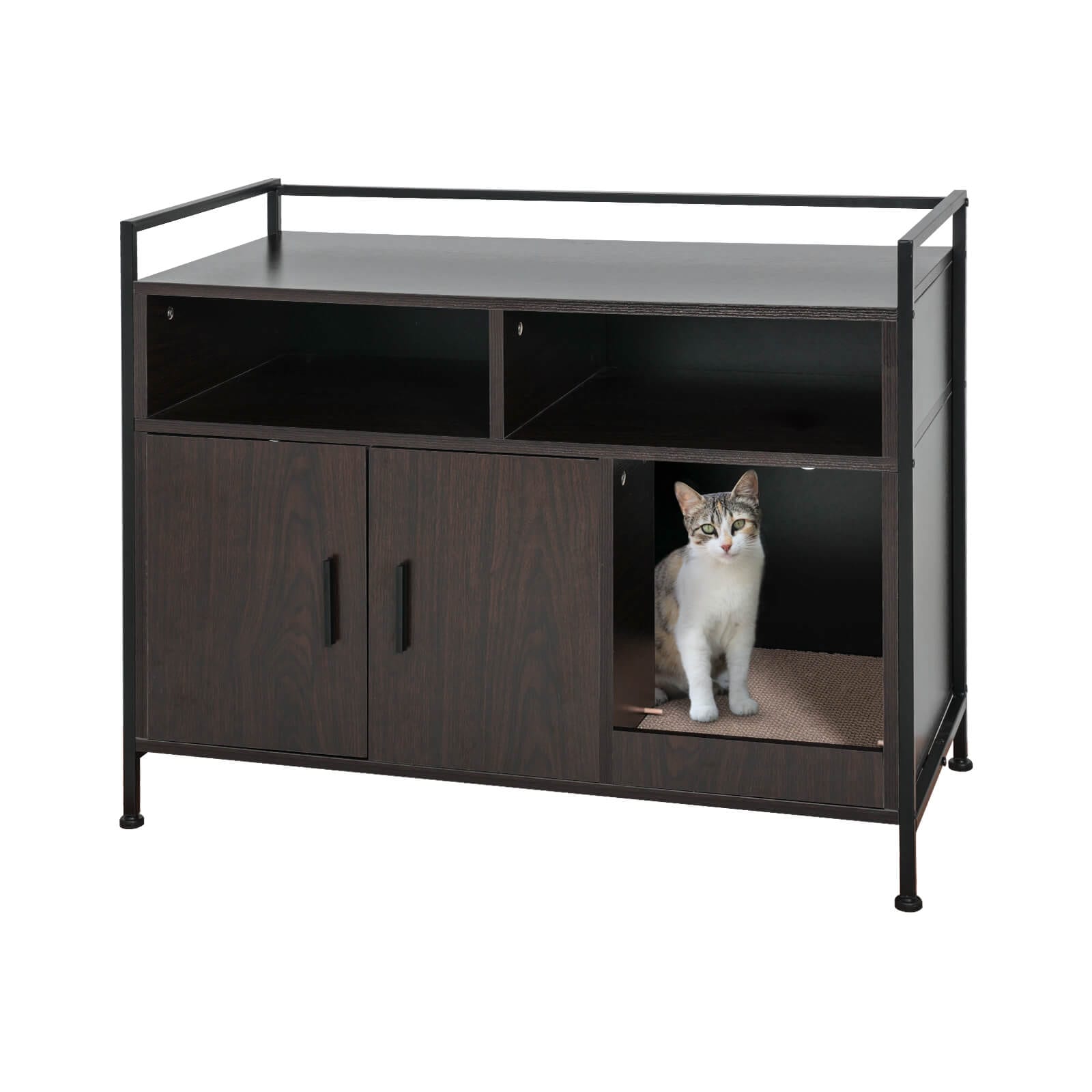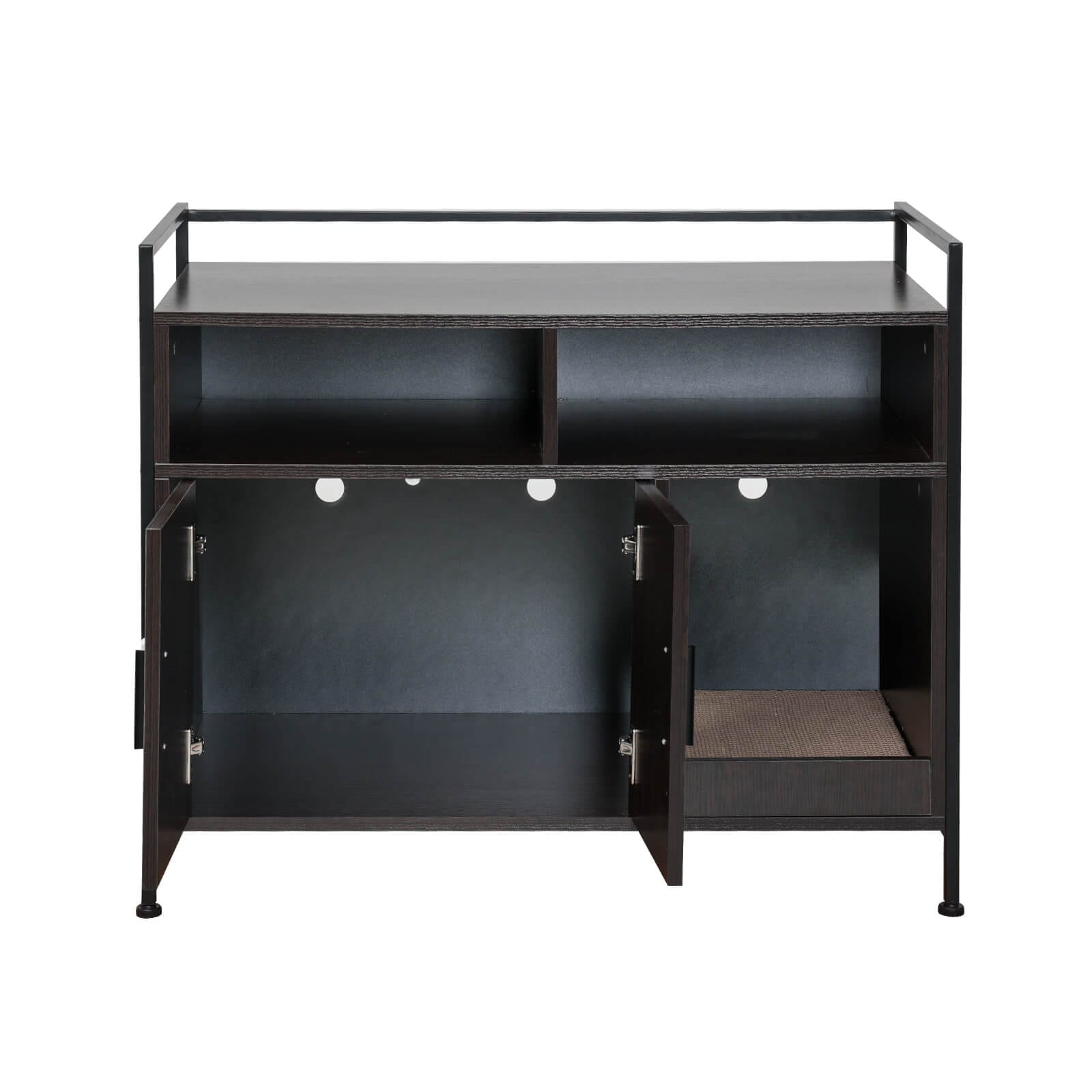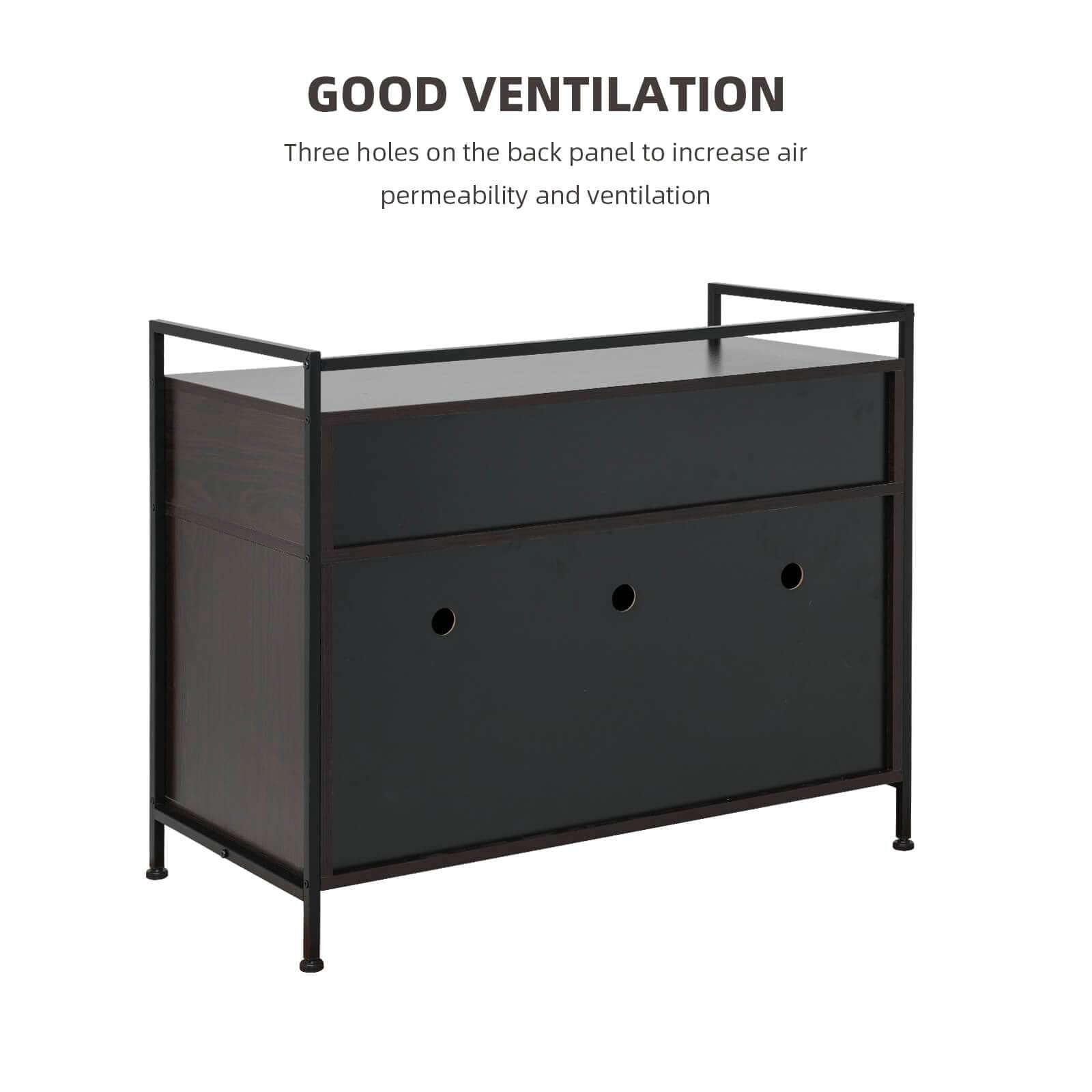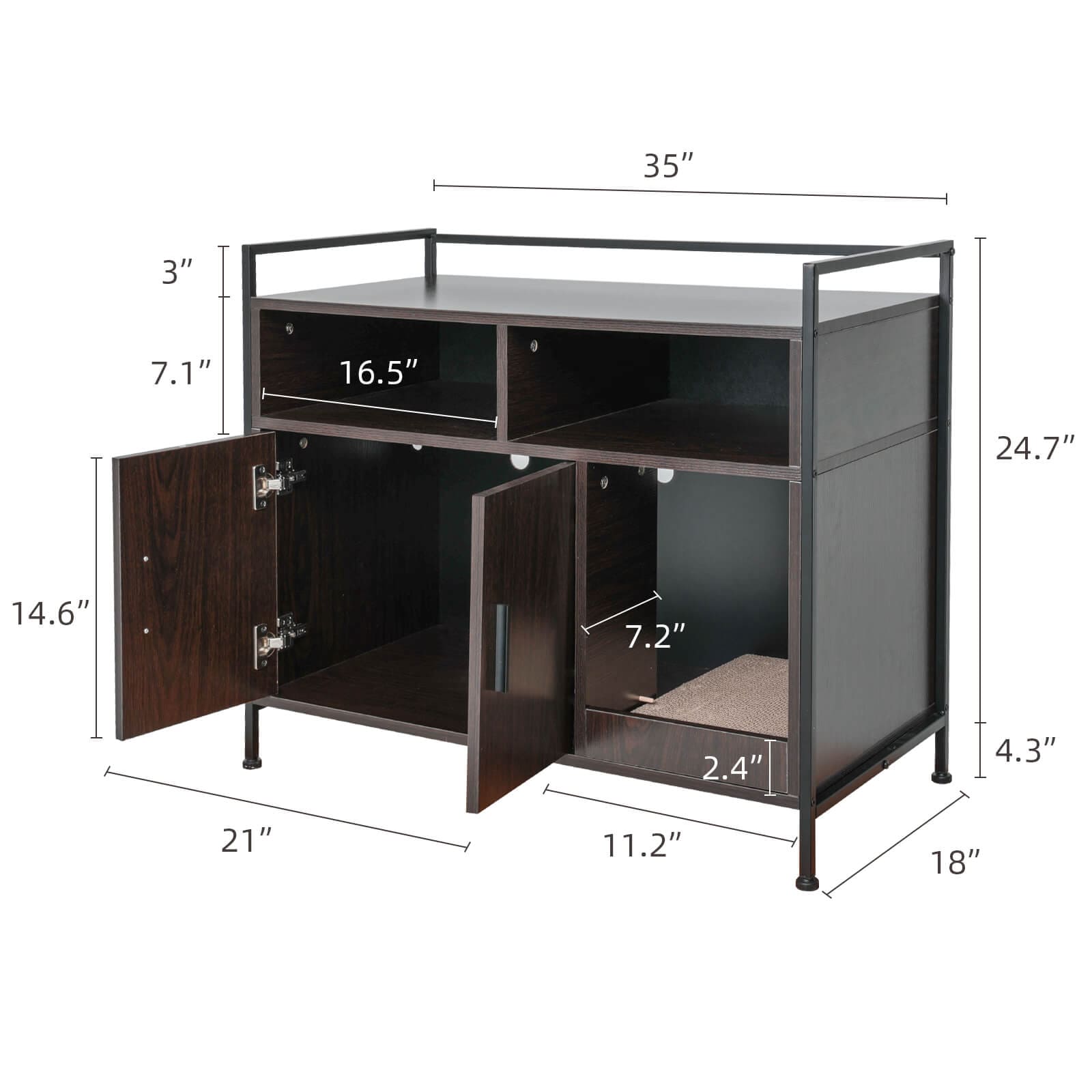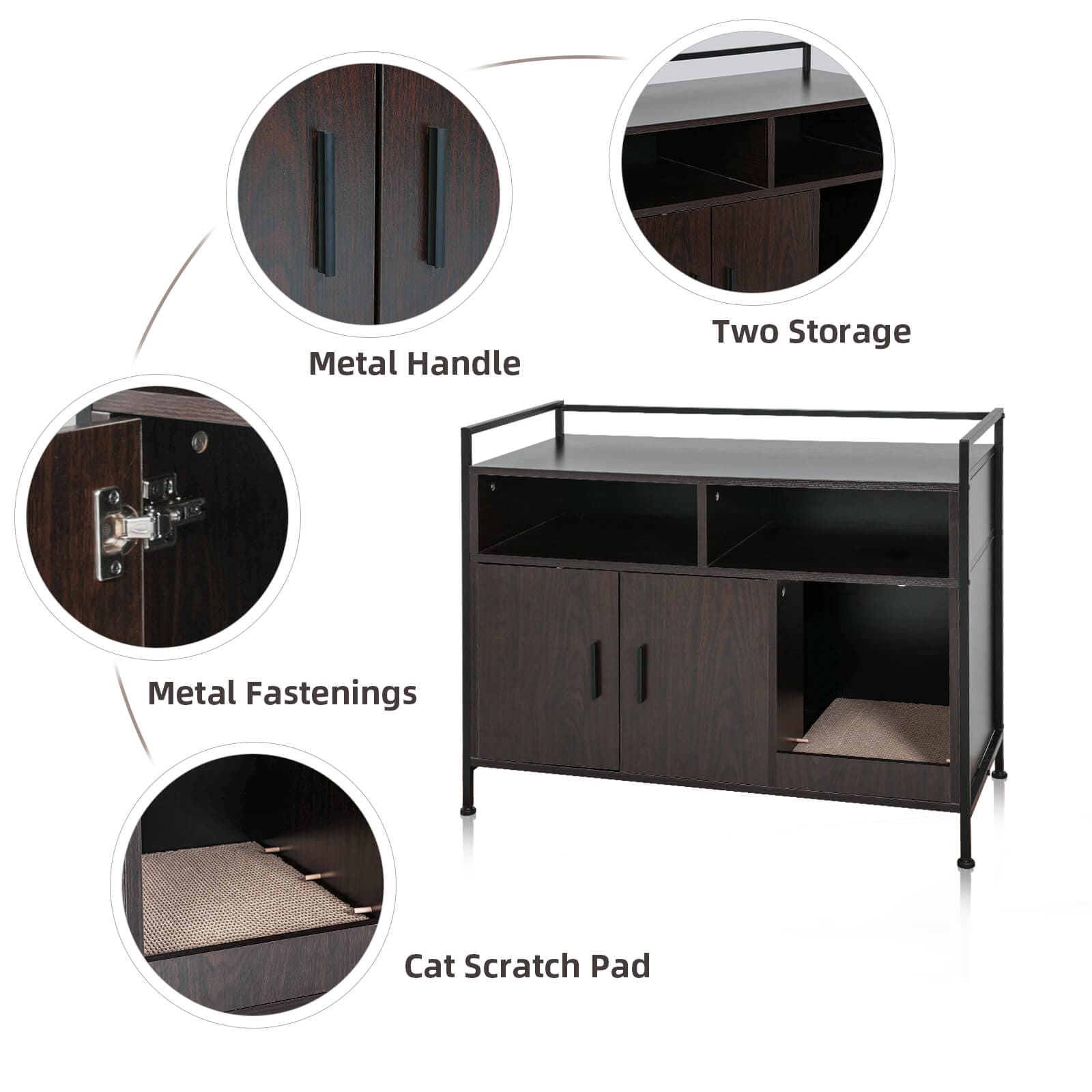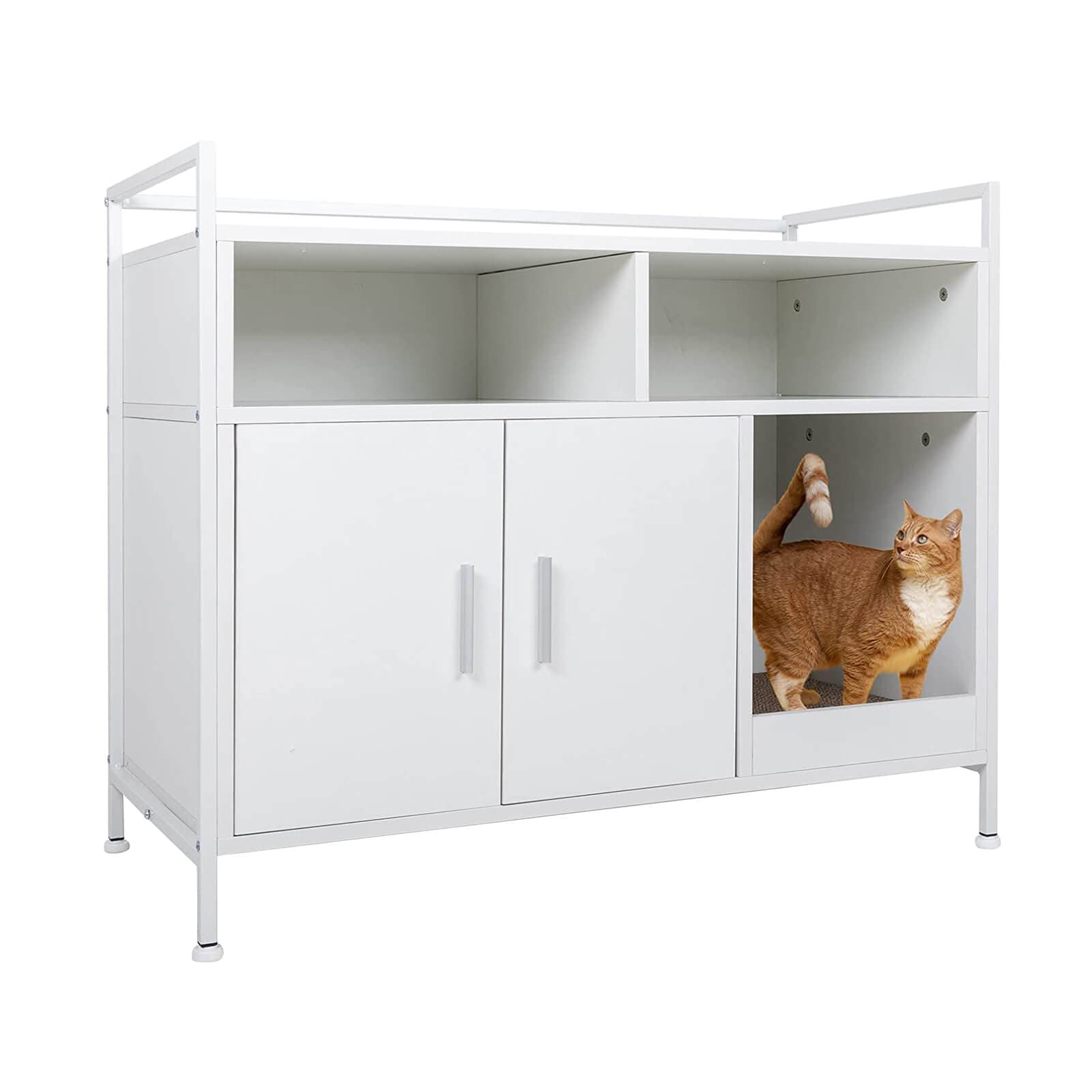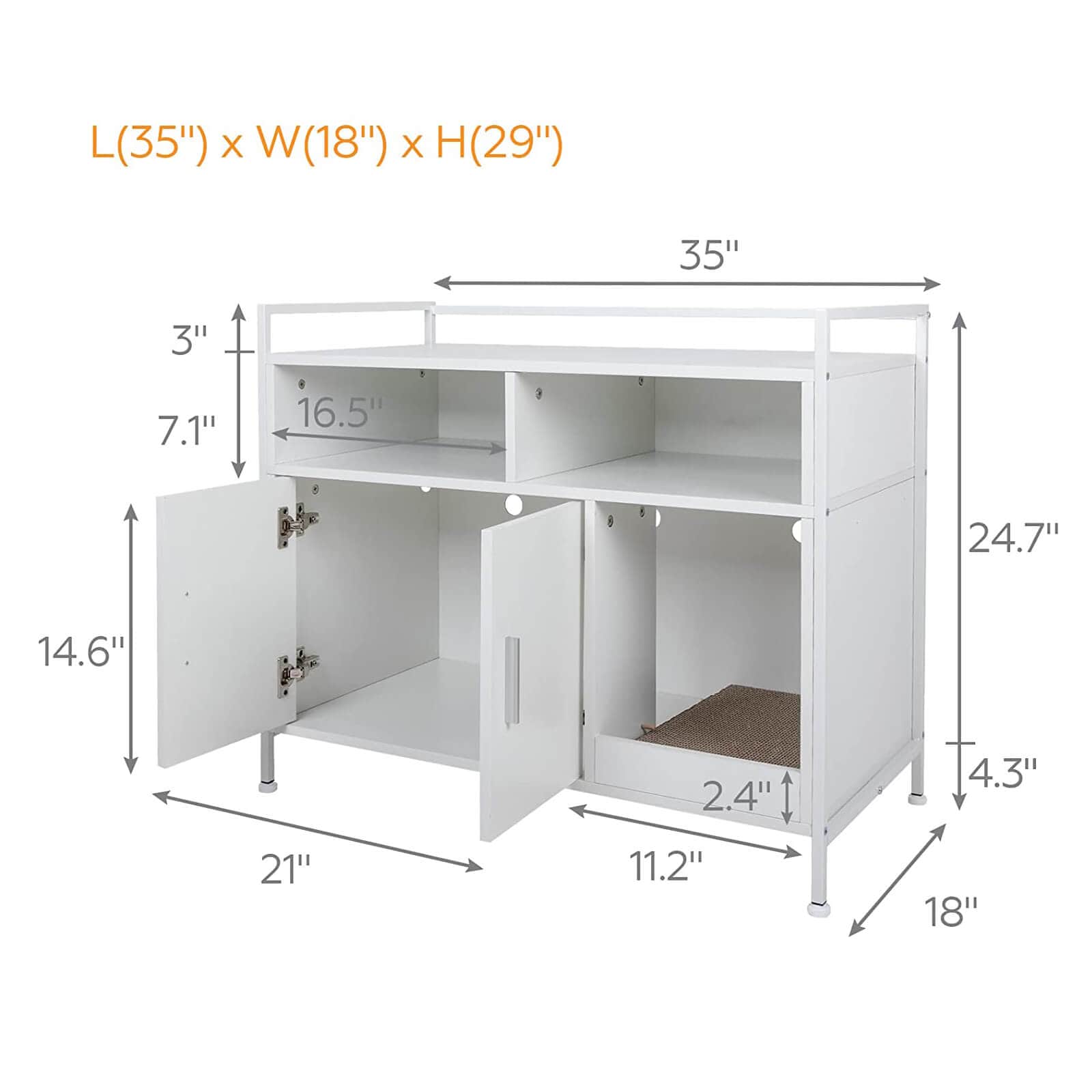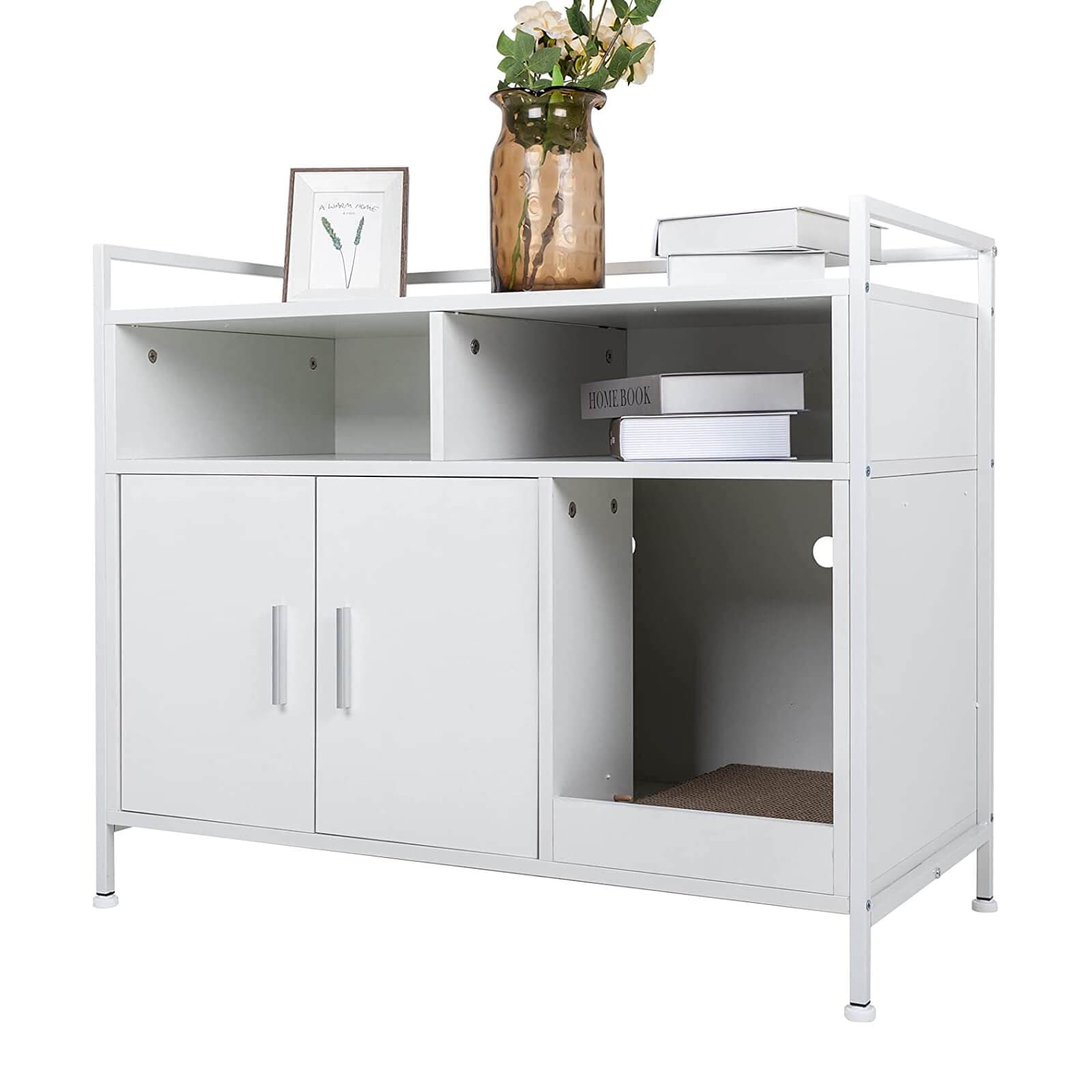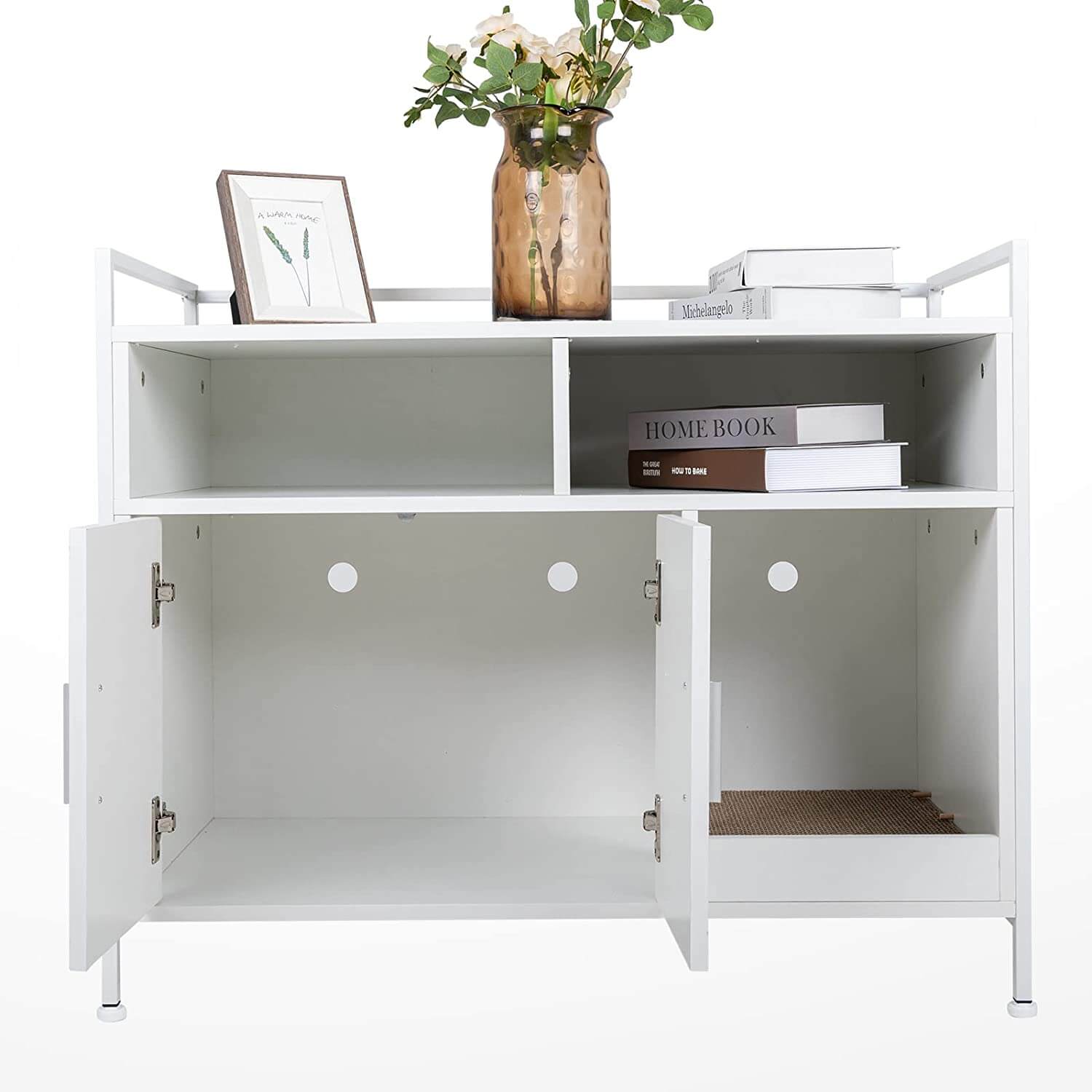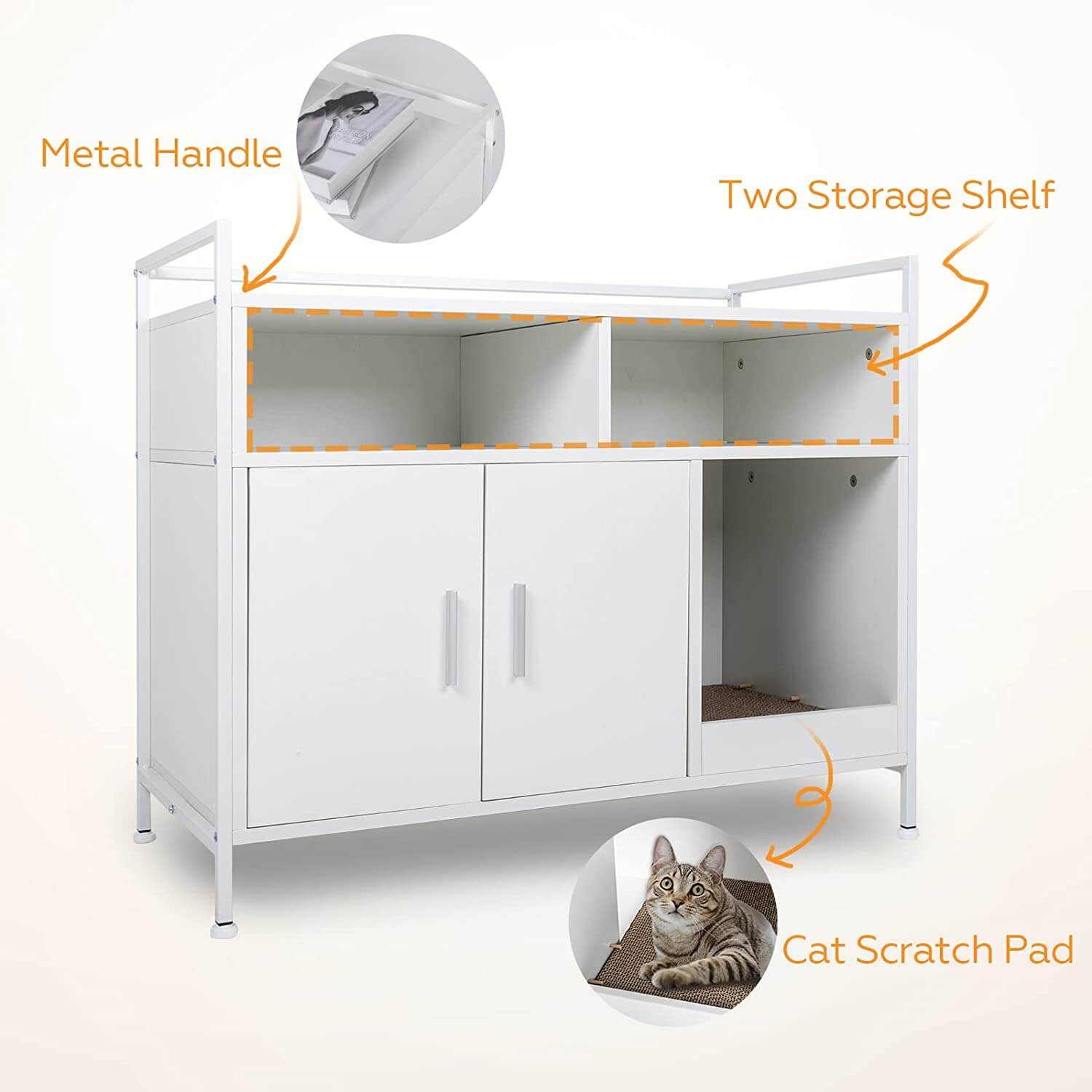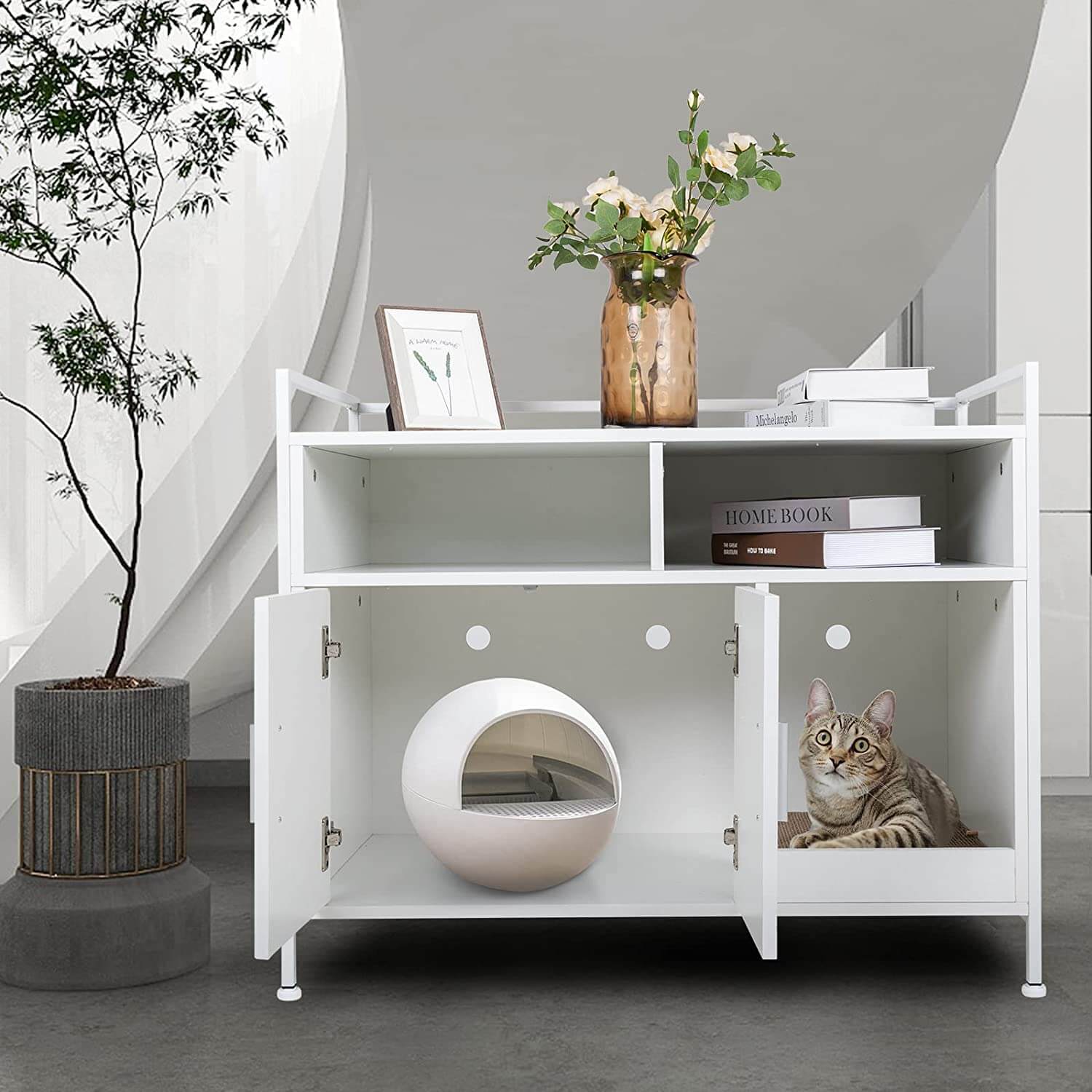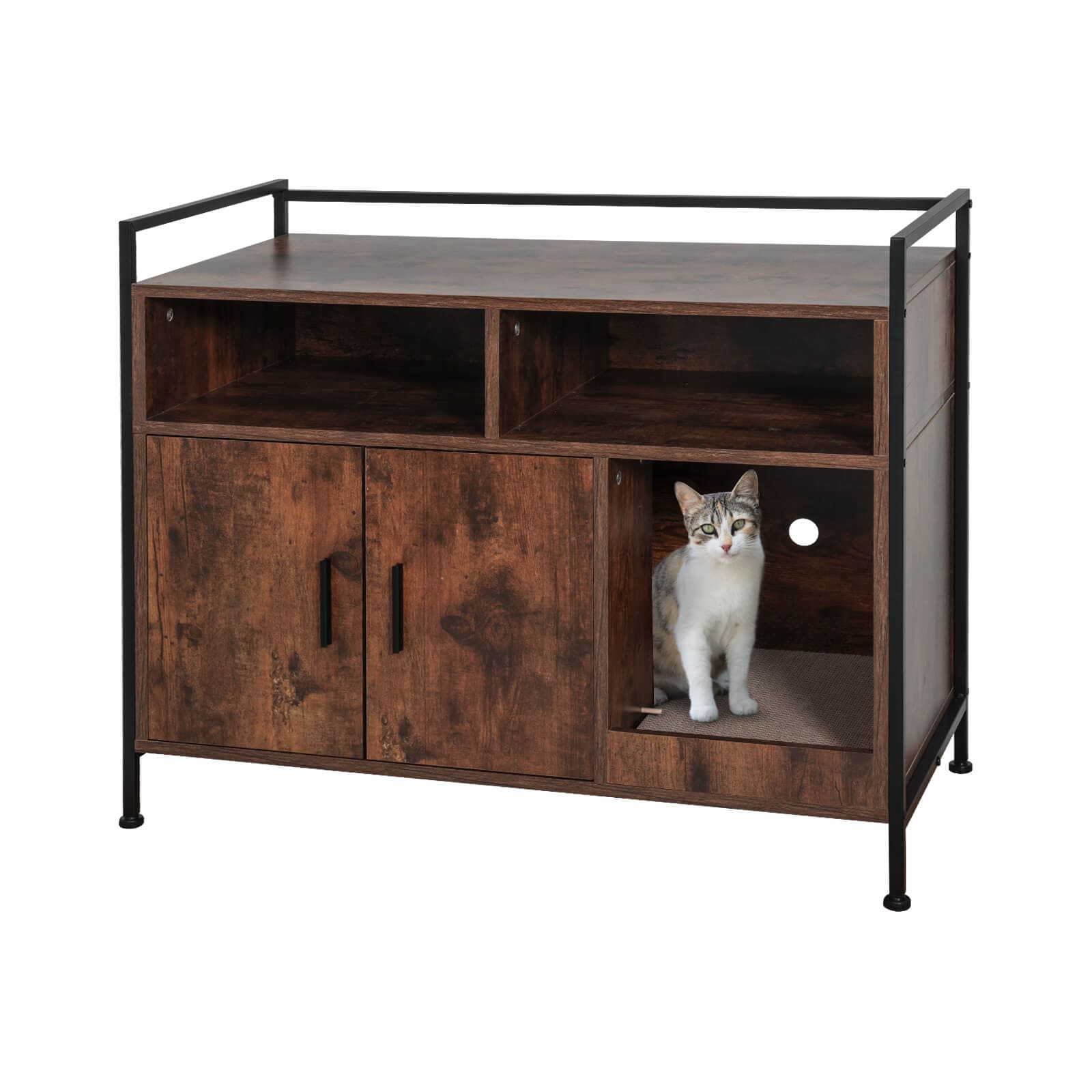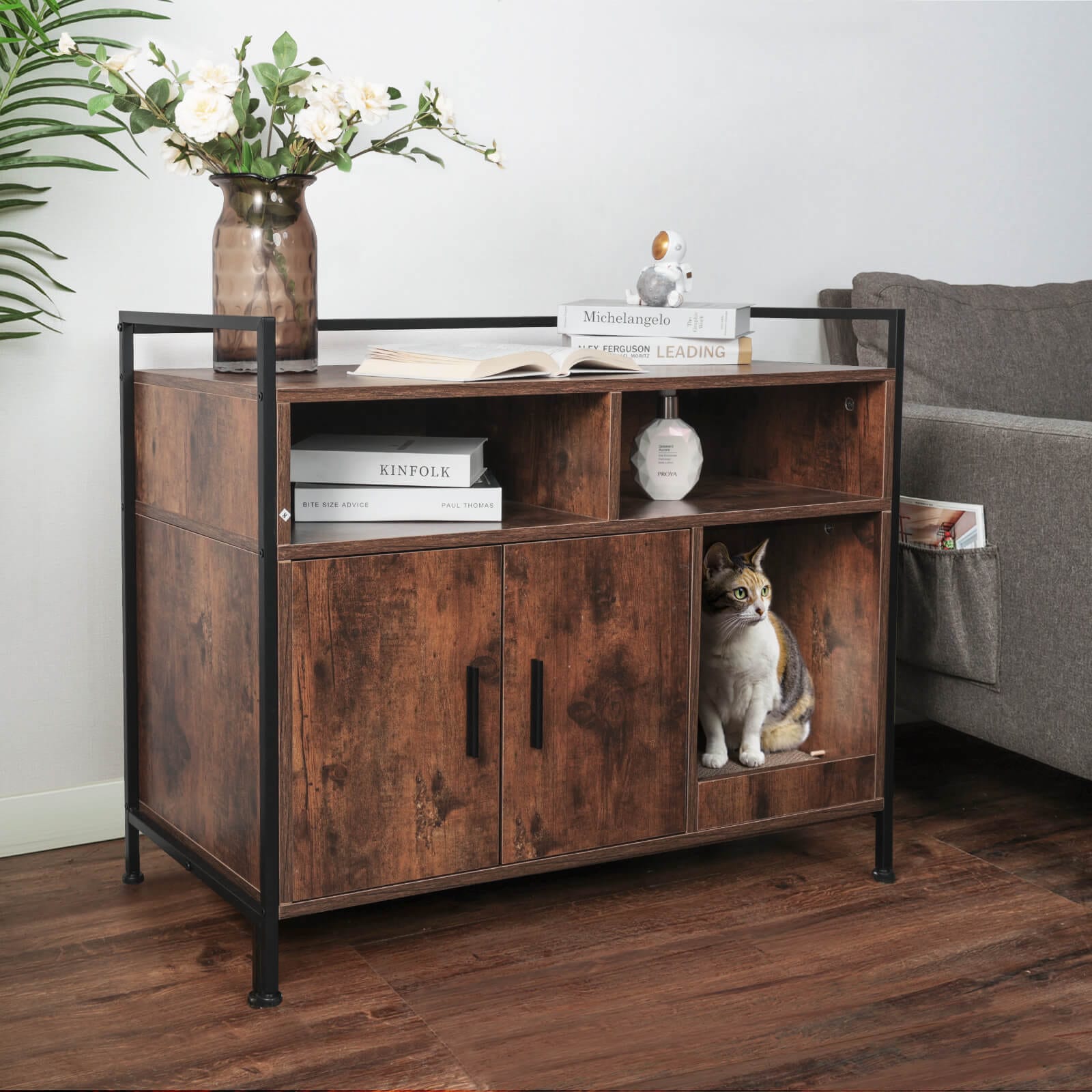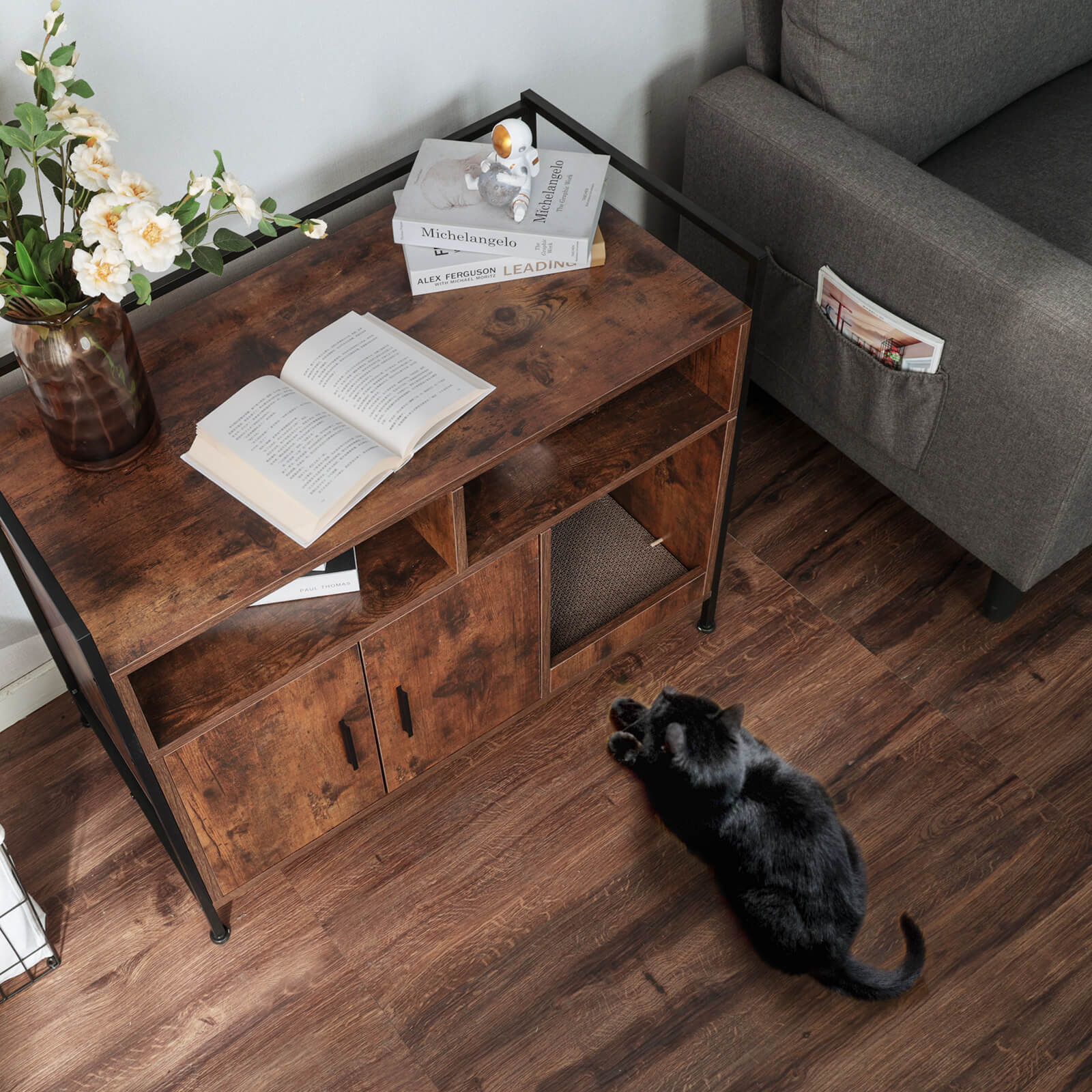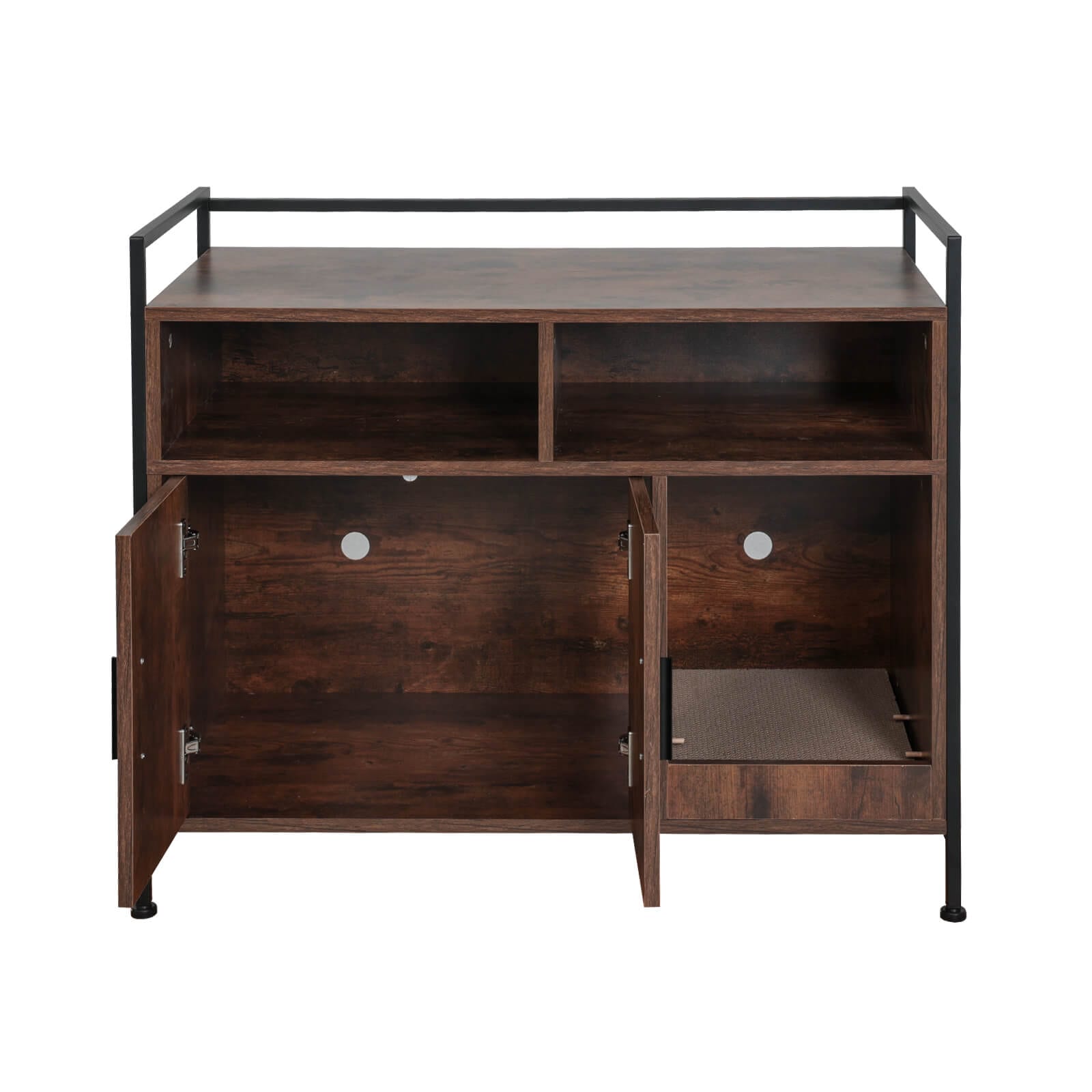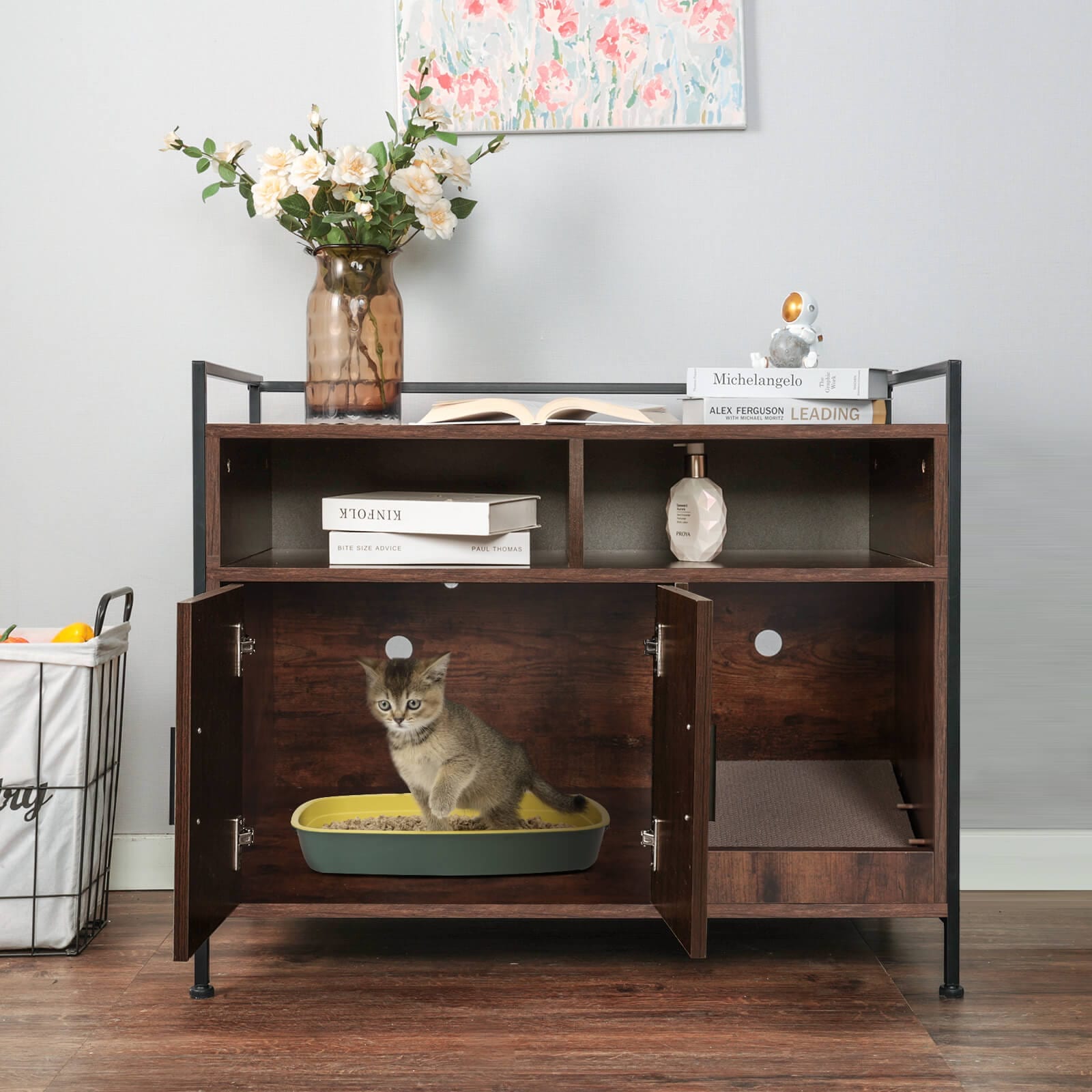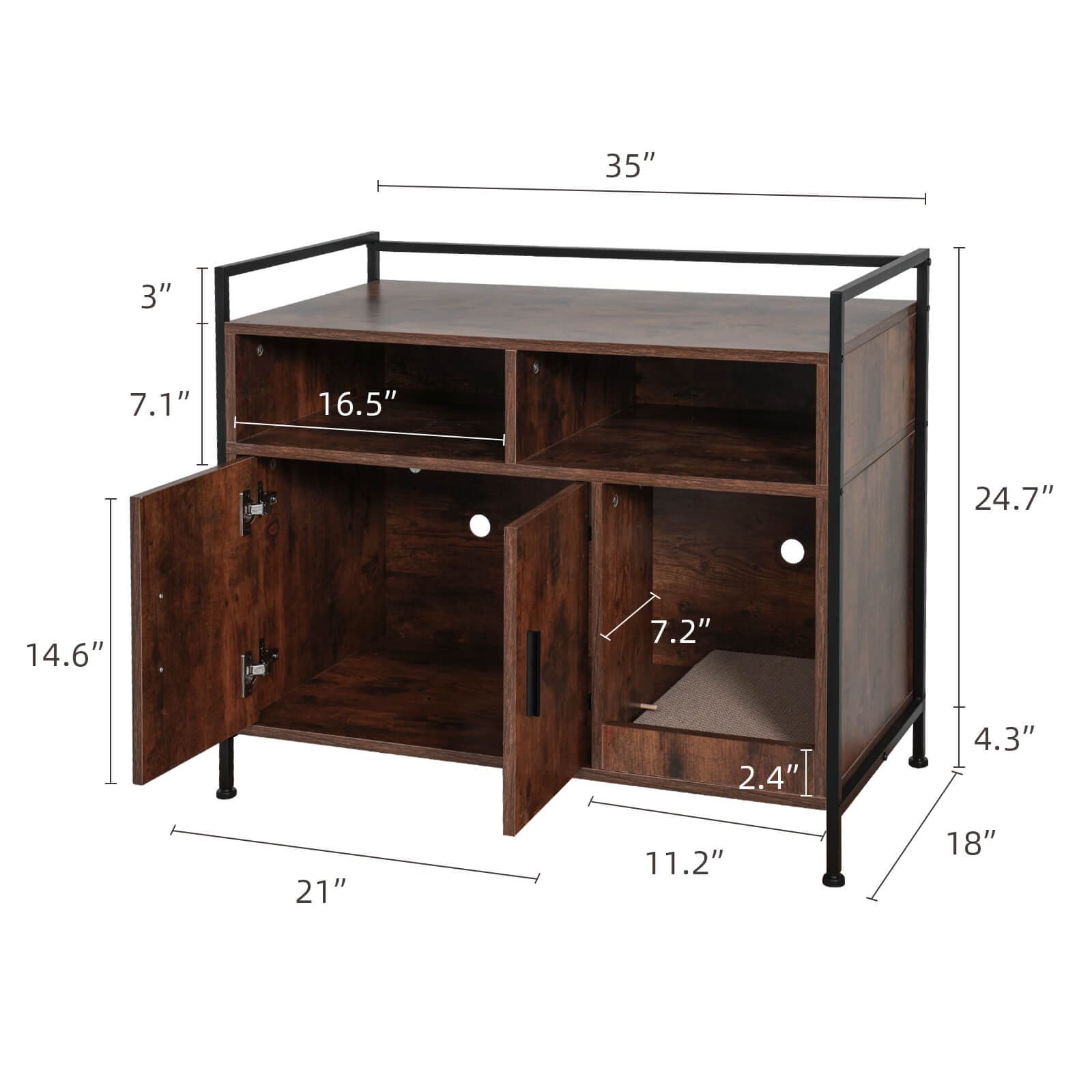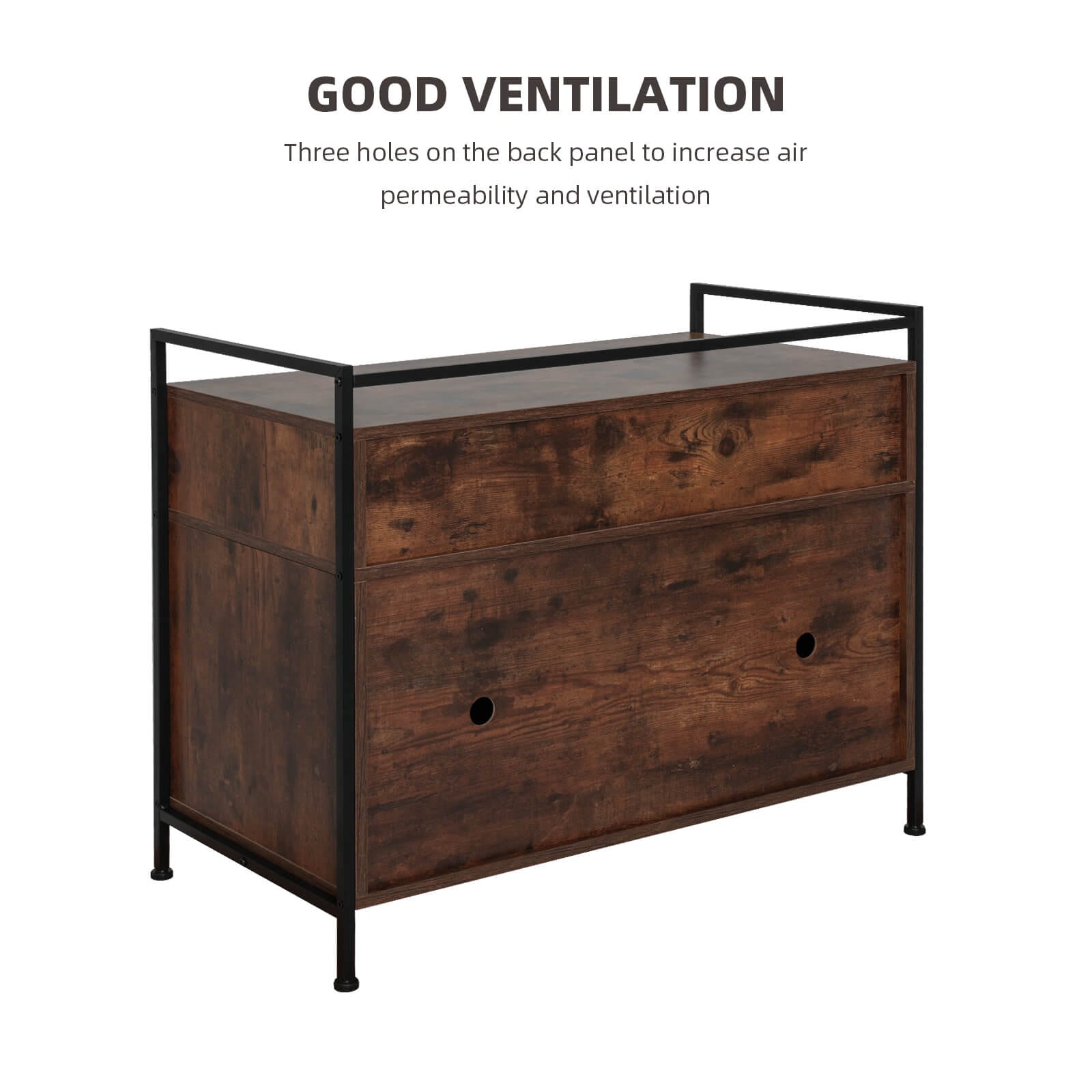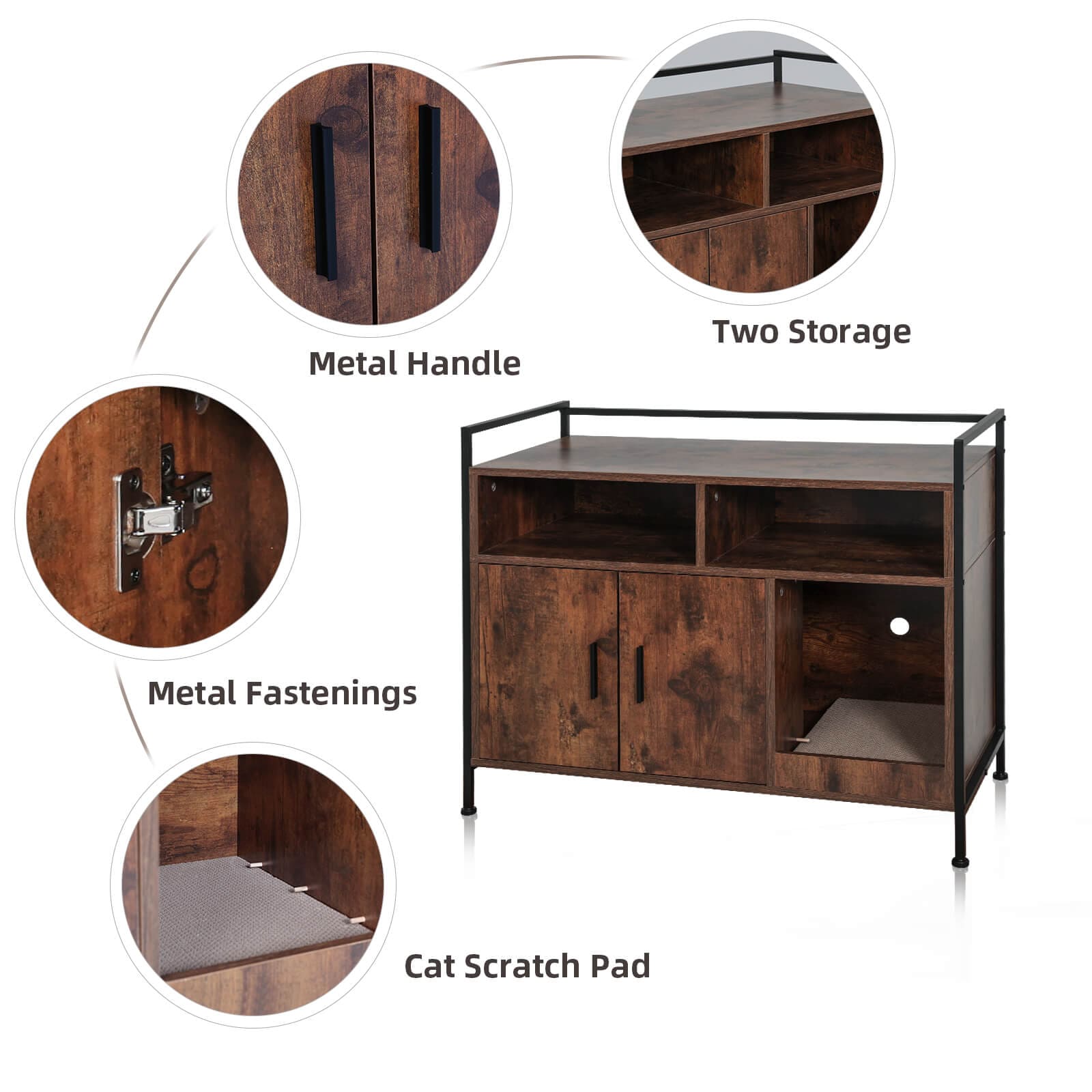 Cat Litter Box Storage Cabinet HW1193
Sale price
$169.99
Regular price
$199.99
Estimated Delivery:Sep 29 - Oct 03

Free Shipping & 30-Day Return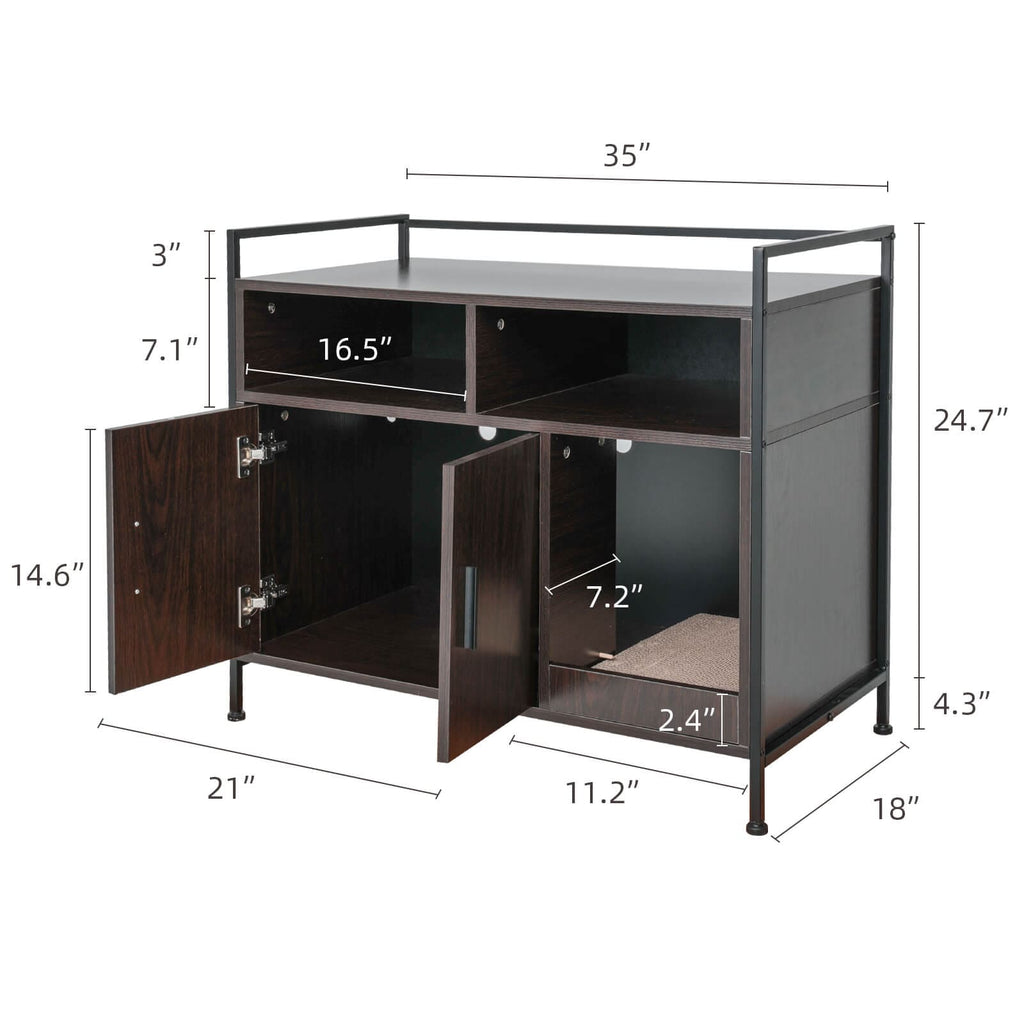 Product description
Shipping & Return
LARGE STORAGE CAPACITY: This cat washroom crate is 35.1" x 29.1" x 17.7", it is suitable for large cats and kitties, and it can storage pet snacks and toys.
WHEN THE DOORS OPEN】

- 

There's a large 14.6" x 20.9" x 17.7" compartment, which fits most common litter boxes. Convenient and easy to clean and tidy.
RIGHT TO PRIVACY: Cats are inherently hyper-vigilant, which is why this cat washroom gives your cat the space to hide and poop at ease,No cat litter scattered around.
BEAUTIFUL FURNITURE IN YOUR HOUSE: Brown color matches your furniture more closely and matches the modern home design. Countertops can also be used as nightstands.
A PERFECT GIFT TO YOUR CAT: The cat is always running up to you when you come home after work. Life becomes more meaningful with a cat curling up next to you.
Cat Door

Pet furniture can be used as a pet-house or enclosure for small boxes to hide litter boxes or beds

Spacious Shelf

Top and shelf offering ample storage space to arrange books, photo frames and so on.

Stainless Steel Fittings


Built-in telescopic fittings provide a strong and secure closure. Metal handle, magnetic plug, easy to open and close.
Q1. When will my order be shipped out?
Once we receive your order, we will process it as quickly as possible, and the order will be completed within 1-3 working days
Q2. How much is the shipping cost?
Free standard shipping on all items.
Q3. What is the estimated delivery time?
Normal shipping time is 3 - 7 business days via FedEx/UPS. The order will be processed the same business day after you placed one. It is then picked, packed, and dispatched.
Q4 . Where are your products shipped from?
Orders are shipped directly from our US warehouses and the shipping is only valid for shipping addresses in the United States excluding Alaska, Hawaii, Puerto Rico, and Guam.
Q5. How to track my order?
You will receive emails about the status of your order. Another way, you can track online through our Track Your Order page.
Q6. What is your return policy?
We offer 30-day free return policy for product quality problem. You can shop with confidence here. More details please check our Return Policy Page.
Still have questions in mind?
Please check our FAQ page here: https://www.elecwish.com/pages/faqs
Just what I wanted! Functional & hidden!
I wanted to move Leo's litter box out of my small bedroom in my apartment but I didn't want it to be obvious in my living room' this was JUST what I was looking for! Looks like a cute little table in my entry way & has shelf's that I can put all the animals things in! Love it! The directions weren't too difficult to read, however a few of the pieces were labeled wrong. Wasn't an issue though because it was obvious they were switched. Did come with some small black scrapes, but they are on the inside of the product so I wasn't too worried about it. I gave it 4/5 stars because of this & the pieces being loaned wrong but overall I am so so happy with this thing!
Super cute just small
It is smaller than you might think. We did not check the dimensions which is our fault. It is super cute just small. Our cats have not used it since they are not here yet. Seems a little small for them but we will see!
Soaks up liquid!
I absolutely love this product, do not get me wrong. It is sturdy, It is the perfect size, and It is exactly what I was looking for. Easy to put together. It turned my off-putting cat box, into a functional piece of furniture and I love it. It matches my other furniture and It is very pleasant.
But it soaks up liquid like crazy! My cats knocked over a bottle of water, and I did not notice the mess until a little bit later. It soaked up the water and left bumps on the surface.
Be sure to line the insides with waterproof material. I ordered sheets of vinyl and used those to line the inside where the litter box goes. I have always used an XL covered litter box, so I guess I did not realize the cat urine could find It is way outside of the litter box. But it did. It made a huge mess inside the cabinet, and of course the wood soaked it up.
I cleaned it, aired it out, and put the sticky vinyl in there to try and waterproof it.
We will see!
Other than the mess from the cat box being soaked into the wood, It is a great product!
Edited to add; I had some leftover puppy pads from housebreaking a new puppy (hence the need for the litter box cabinet because he loves to eat kitty **** and make a mess) and those are perfect to putting under the litter box, and soaking up any urine that spills out. I have always had a covered litter box, so I did not realize that was happening. But I lined the whole inside of the cabinet with the sticky vinyl to waterproof it, and put the litter box on top of a puppy pad. Absorbs the urine and helps cut the smell. Overall, still a good product.
My cats LOVE THIS!
Cabinet is sturdy and well-made comes with an insert scratchy pad for them. My cats fell in love with it right away not only does it hide the nasty litter box, but I see it protecting the rest of my furniture as well. I left the doors open on it for the first hour so they could see their litter box was in there. They took right to it, and since it has the scratchy thing in it they have not tried to claw anything else! I wish I ordered 2 more for other rooms in my house!
Heavy but easy to put together
Comes with extra screws and a tool to put them in, however the screwdriver gets stripped easily so you may want to invest in another screwdriver.
Also be sure to get a smaller litter box if you intend to use it as a litterbox cabinet.